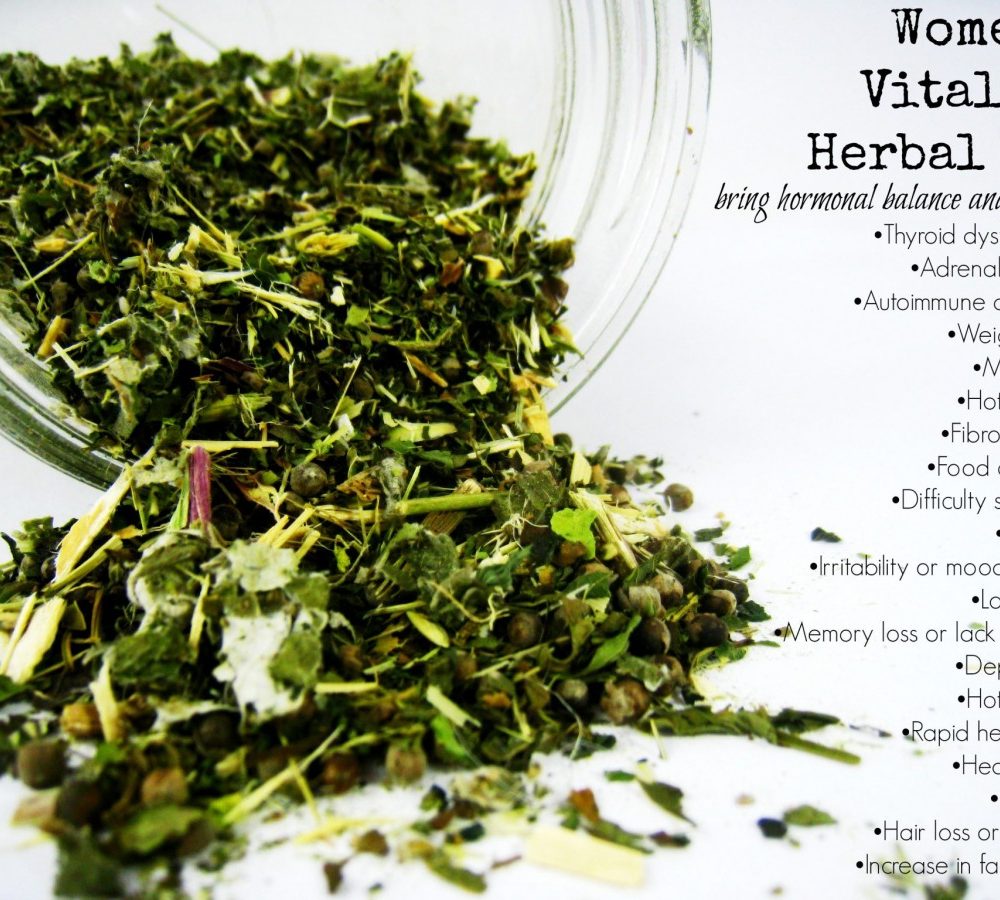 Hormones play a huge role in a host of ailments that women suffer from.
Discussions over hormone issues have increasingly become more a focus over the past few years. It almost seems as though hormones didn't even exist for decades prior! It really wasn't until links to hormone imbalances and cancer that the populous as a whole started to take notice.
Conventional medicine began with responding by prescribing synthetic hormone replacement therapies…and that was an epic fail.
A failure that left a huge void, one perfect for the introduction of natural hormone balancing remedies…herbs, namely, in all their glory! And with it came their ability to work with the body to pinpoint the imbalance and correct it — which by the way, will be different for everyone.
Katie over at the Wellness Mama writes an excellent article, "9 Tips to Help Balance Hormones" that covers the topic beautifully. I highly encourage you to read her post!
Hormonal imbalances can often be the cause of:
Adrenal fatigue
Autoimmune diseases
Weight gain [read more about all-natural weight loss here…]
Dark skin discolorations
Hot flashes
Fibromyalgia
Food cravings
Breast Cancer
Difficulty sleeping
Anxiety
Irritability or mood swings
Low libido
Memory loss or lack of focus
Depression
Hot flashes
Rapid heartbeat
Headaches/Migraines
Infertility issues
Hair loss or thinning
Increase in facial hair
Although this list seems lengthy, these are but a few of the symptoms that could occur as a result of hormonal imbalance in women.
Three+ years ago I was experiencing extreme fatigue, irregular cycles, hair loss, migraines, and a variety of other issues. I scheduled an appointment with my naturopath and had a full workup including hormone testing, blood count, adrenal function, and vitamin/mineral uptake.
I was fearful because just 2 years prior my mother had been diagnosed and treated for breast cancer.
Everything came back beautifully and perfect.
We concluded that the stress of then full-time work, school, and rearing young children was taking its natural toll!
Nevertheless, it set me on a course for ultimate health, stress reduction, and a desire to live in peace with my body and nature…as it should be.
That was the moment herbal health stepped in like a ray of light…illuminating my path for future health.
That said…
…it may be worth having your hormone levels checked if you have even the slightest question concerning your health or display any of the more serious conditions listed above. Because when our hormones are out of balance, it places greater stress on the body systems — greatly reducing our ability to fully heal.
Women's Vitality Tea
Years ago I developed this lovely blend of powerful botanicals — for both my mom and I. The herbs used to craft this herbal tea were chosen for their unique ability to balance progesterone and estrogen levels within the woman's body.
From a reduction in menopausal symptoms for many of my family members and friends to a viable pregnancy for a dear friend. The blessings brought on from this tea have been just that…a blessing!
And today I'd like to share the recipe with you.
Ingredients
3 parts raspberry leaf
1 part chaste tree berries (vitex)
2 parts nettle leaf
1 part  astragalus root
1 part oatstraw
1 part blessed thistle
2 parts peppermint
Note: Naturally the results will be different for everyone. This is by no means a cure-all. I'm just happy to share with you my experience with these plants. Please use conventional wisdom and consult with your medical professional prior to taking this or any other herbal supplement. And as we know all to well the FDA doesn't like any type of claim…this information is purely educational in its purpose.
Not suitable for pregnant or nursing mothers.
Another Note: Unless you are allergic to oats. Gluten sensitivity will not be activated by use of oatstraw. And allow me to further clarify on the use of vitex (chaste tree berry). Historically (and this information sourced from Mountain Rose Herbs) — as in two thousand years ago, or at least since the time of the Greek physician Dioscorides, vitex was recommended and given primarily to men in battle and to monks to suppress sexual desire. Men should NOT take chaste berries in any form.
On the other hand, The German Commission E has approved the use of chaste berries to support a healthy and regular menstrual cycle. Studies have shown efficacy in reducing the unpleasant symptoms of the menstrual cycle. When combined with other herbal ingredients (such as those in this tea blend), vitex has been shown to support menopausal health.
Method
Measure the parts of each of the herbs listed and mix in a large bowl until well combined.
Grab your tea accessories, tea infusers, and/or tea pots…and brew a cup! (Note: I get all of my loose leaf tea-making supplies online from Mountain Rose Herbs.)
This herbal tea blend will keep stored in a cool, dark place for approximately 6 months. (Note: I like to store all of my teas in glass jars with tight-fitting lids.)
To prepare: Add 1 teaspoon of loose leaf tea per cup of hot water and steep for 3-5 minutes. You may find that it benefits from the addition of a bit of milk (your choice) and/or raw honey to smooth out the flavor.
To use: I like to take 1 cup first thing in the morning and one around noon. I recommend daily consumption. You could also use this herbal blend to make a tincture for a stronger — more convenient — medicine. Note: Please see my article "How to Make an Herbal Tincture" for more details on handcrafting tinctures at home.
Where Can I Get This Stuff?
–Mountain Rose Herbs…they have everything you'll need for this remedy! It's your one-stop-shop!