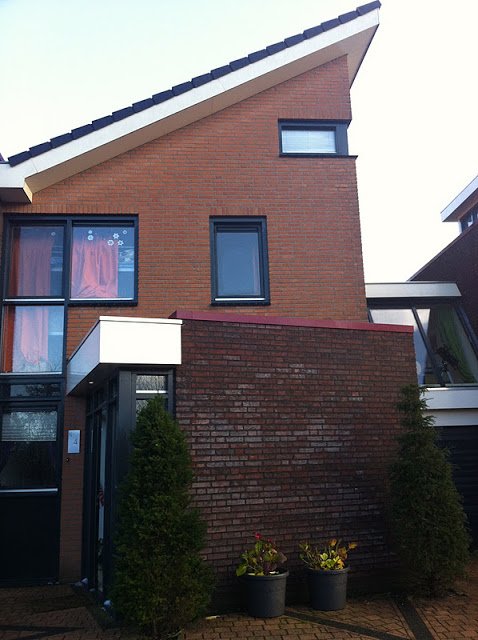 Editor's Note: This is a guest post from Tracey Davis of Control the Chaos.
Hey there, I'm Tracey. I write over at Control the Chaos, a blog about real simplicity, real food, and real living. I'm thrilled to be guest posting today, because Andrea and I are on the same page about a lot of things. In fact, the more I read at Frugally Sustainable, the more I think to myself (and sometimes say out loud) "Yes! Exactly!"
Except…the thing is….
Here's my house: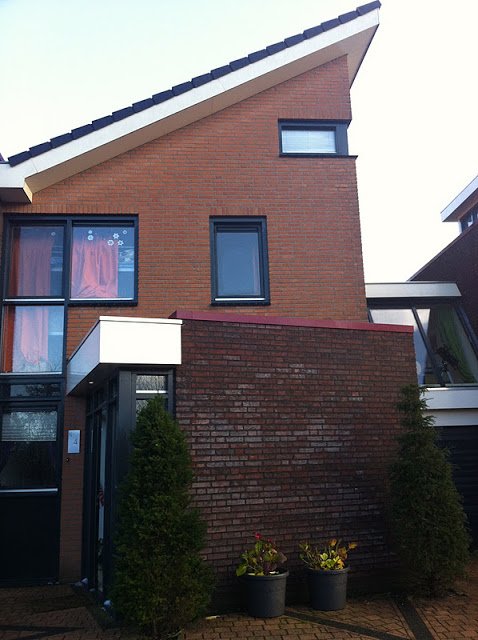 And here's my yard: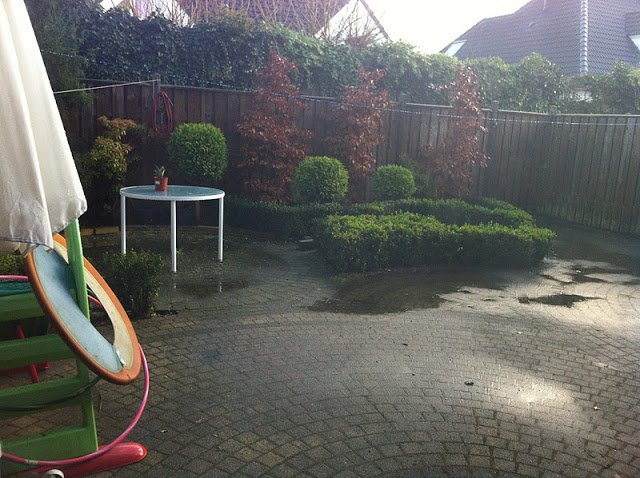 You see, I live in a row house. In the Netherlands. I moved here from a high rise apartment in Tokyo. We have been blessed that my husband's job has taken us all over the world, seeing new places and learning new cultures. But we don't always have the luxury of a sprawling house and yard with a huge vegetable garden. We dream of someday homesteading full time.
But for the time being, we just have to make do.
So we did. It started small; I didn't want to worry about my children getting into dangerous chemicals. I switched all our random cleaning products for the basics:  baking soda, vinegar, borax. When I encountered success, I was emboldened to branch into the laundry detergent business. And then bread making. Holy easy! And all of this was in our Tokyo apartment. By the time we arrived in Holland, I thought I was in heaven with that patch of bricks for the kids to play.
In the Netherlands, I am happy that I can easily find fresh eggs and milk at a local farm. Every town has a weekly outdoor market year round, where I can buy local produce. In fact, it's a law here that all produce must be marked with its country of origin. But the issues I run into are mostly space related. We have no grass. I can span my kitchen with my outstretched arms, and it didn't even come with a real oven.
The point is, very few of us have the ideal situation for living a sustainable lifestyle. But if we wait for that to happen, we might be waiting a very long time. Like forever.
Here are the best and easiest 5 ways we have added sustainability to our current environment:
Save our stuff:  upcycle. Stop the stuff in, garbage out cycle. Hunt around the house to fill needs before heading to the store. A few of our recent endeavors include cereal boxes made into mail sorters, plastic milk jugs to hold laundry detergent, and fabric scraps for ribbon.
Ditch the disposables:  paper towels and napkins, be gone! Long ago we started cutting up old t-shirts for rags, and we've never missed those paper towels. I bought twelve nice cloth napkins for dinner, and not only does it cut down on waste, it makes the table look nice for guests.
Hang it out to dry:  put up a clothes line. If I can manage to tie a string between two fence posts in my tiny back garden in the rain soaked Netherlands, I'm sure you could find a spot, too. Between two trees, maybe? A hook under the eaves? It doesn't have to hold three loads at a time, it could just be a way to decrease the demand on your dryer. We hang stuff all over our radiators in the winter if it is raining outside – maybe you could fit a line in your bathroom or guest room.
Use our footprint:  plan the space. It's chic to talk about decreasing our carbon footprint, but I think it's also important to make intelligent use of what we have. Because we have no grass, we started a container garden. It's an ideal situation for us because we easily moved it indoors once the weather turned cold, and now I have spinach and lettuce growing year round (thanks to Frugally Sustainable for that fantastic idea!). Next year we have plans to increase our growing area by using about one square meter of ground around an ornamental bush that isn't being used for anything else. So far we've managed to grow herbs, tomatoes, peppers, cucumbers, lettuce, and spinach, all in containers.
Be the change:  take matters into your own hands. In an ideal world, canned food wouldn't have BPA, high fructose corn syrup wouldn't be added to everything, and we wouldn't have to worry about our kids getting too much fluoride. Unfortunately, we cannot afford to wait for that ideal world, and ultimately we have to take responsibility for ourselves. The time for change is now, and the person to do it is me. And you.
Many of us do not have all that we think we need to live a sustainable lifestyle. Be encouraged today! No matter what you have, use it…every bit of it! How are you using what you have and turning your home into a unit of production?
Be sure to pay a visit to Tracey over at her blog Control the Chaos and check out her facebook page as well!