Itching, burning, swelling, watery, red eyes.
You know what it is! That's right…pink eye.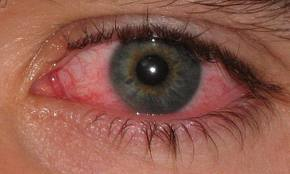 Just as is the case with ear infections, the cause of conjunctivitis is not always bacterial. It may be viral or related to allergies. Most often, pink eye is a viral infection that occurs in people whose immune systems are weakened. Therefore, antibiotics are useless in treatment.
Bacterial pink eye usually involves both eyes at the same time. Cream to green colored pus drains from the eyes and they will be swollen. Pink eye caused by a viral agent will usually result in only one eye affected at first then followed by the other eye a few days later. Generally the discharge coming from the eye is clear and watery. Itching and burning will always be present during both types of infection.
Conjunctivitis is highly contagious. Hand washing, with simple soap and water, is the best prevention. The immune system must be addressed at this time as well. This can done by administering:
-1/2-1 teaspoon of Echinacea Tincture every hour until symptoms resolve.
-Oral vitamin C supplements
–Vitamin A rich foods
–Elderberry tincture or syrup
Treatment for the infected eye or eyes includes the use of either one of these two eye washes.
Basic Eye Wash
-1 teaspoon salt
-1 cup boiling distilled water
Directions: Dissolve salt in boiling water. Allow mixture to cool completely.
Use: Flush eye with wash using an eyedropper several times a day. Use wash daily until symptoms resolve.
Herbal Eye Wash
-1 teaspoon comfrey root
-1 teaspoon raspberry leaf
-1 teaspoon goldenseal root
-1 cup boiling distilled water
Directions: Combine all herbs and boiling water. Steep for at least 30-60 minutes, making an herbal infusion. Take care in straining all herbs out of the infusion through a coffee filter (may require 2-3 strainings). Allow liquid to cool before using.
Use: Flush eye with wash using an eyedropper several times a day. Use wash daily until symptoms resolve.
*FYI Herbs for this recipe will cost about $14 for 4-5 days of treatment.
Notes:
-Both eye wash recipes are enough for one day of treatment. They should be remade daily.
-Green tea has soothing effects and can be used to reduce swelling and itching by applying cool, wet green tea bags directly over closed eye lids.
-A warm cloth compress will also help reduce negative side effects.
-A teaspoon of Valerian tincture given by mouth, in chamomile tea, throughout the day will help reduce itching and burning.
I like to purchase my herbs online through Bulk Herb Store
DISCLAIMER: The statements made here have not been approved by the Food and Drug Administration. These statements are not intended to diagnose, treat or cure or prevent any disease. This notice is required by the Federal Food, Drug and Cosmetic Act.
See this post and a host of others like it here: Wildcrafting Wednesday, Healthy 2Day Wednesdays, Homemaking Wednesday, Wickedly Awesome Wednesday, The Mommy Club, Simple Lives Thursday, Your Green Resource, It's a Keeper, Friday's Nature Table, Fresh Bites Friday, Frugal Friday, Gallery of Favorites, SNS 105, Nifty Thrify Sunday, Cure for the Common Monday, More The Merrier