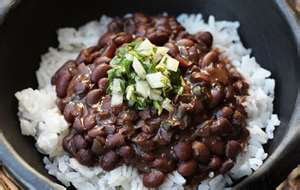 There definitely was a time, not all to long ago, where gourmet meals appealed to me. Expensive "health foods" and organic everything pretty much dominated my pantry. Then everything changed. Our third child was born, the housing market tanked, gas prices skyrocketed, the list could go on. Needless to say, I became frugal out of necessity.
Today we are almost exclusively an organic bean and rice (or quinoa or millet) type of family. Without compromising health, we only eat pastured or grass-fed meats from a local farmer; however, the price limits our ability to eat meat every night of the week. When it comes to feeding my family "quality over quantity" is my motto. I use simple, frugal, easy to prepare recipes.
I want to share an e-book with you that has literally helped me more than I can say! I love this book and it is a resource that sits on my computer's desktop ready to be used 3-4 nights out of the week. I love it so much, I have even begun to use it as a guide for my food storage purchases.
It's "The Everything Beans Book" by Katie Kimball over at Kitchen Stewardship.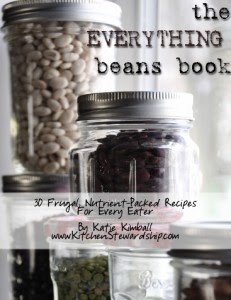 There are over 30 frugal, nutrient-packed recipes for children and adults. Recipes include wraps, soups, sides, pasta, main dish meals and desserts. All recipes use beans in some way. "The Everything Beans Book" also has lots of information that will help you know how to soak, sprout, and cook dried/canned beans.
I want to share with you one of my favorite recipes from the book:
Mexican Beans and Rice
-1 cup brown rice
-1 3/4 cup water
-8 ounce can tomato sauce
-2 tablespoons taco seasoning
-1 can kidney or black beans (or 2 cups cooked dry beans)
-salt to taste
Directions: Saute the rice dry until brown. Then add water, tomato sauce, and taco seasoning. Bring to boil, turn heat to low and simmer covered for 40 minutes. Add the beans and optional add-ins and simmer 5 more minutes, covered, add more water if needed.
Add-ins: 1 cup corn, chopped onion, minced garlic, chopped green peppers, chili peppers, shredded cheese. The sky is the limit here. Use what you have on hand fresh or in the freezer.
Frugal Tip: Make your own seasoning.
Homemade Taco Seasoning Mix.
-2 tablespoon chili powder
-1 teaspoon garlic powder
-1 teaspoon onion powder
-1/8 teaspoon cayenne pepper
-1/2 teaspoon dried oregano
-1 teaspoon paprika
-3 teaspoons ground cumin
-2 teaspoon sea salt
-2 teaspoon black pepper
Directions: Mix all ingredients together and store in glass jar. 1/4 cup of seasoning mix is the equivalent to 1 package of commercially prepared mix.
If you end up purchasing the book comment, and let me know what you think of it! Also, if you're a blogger, share with us your favorite frugal "bean and rice" recipe post or bean storage post here. And if you do not have a blog, share your recipe in the comment section. That way we can all learn from each other.