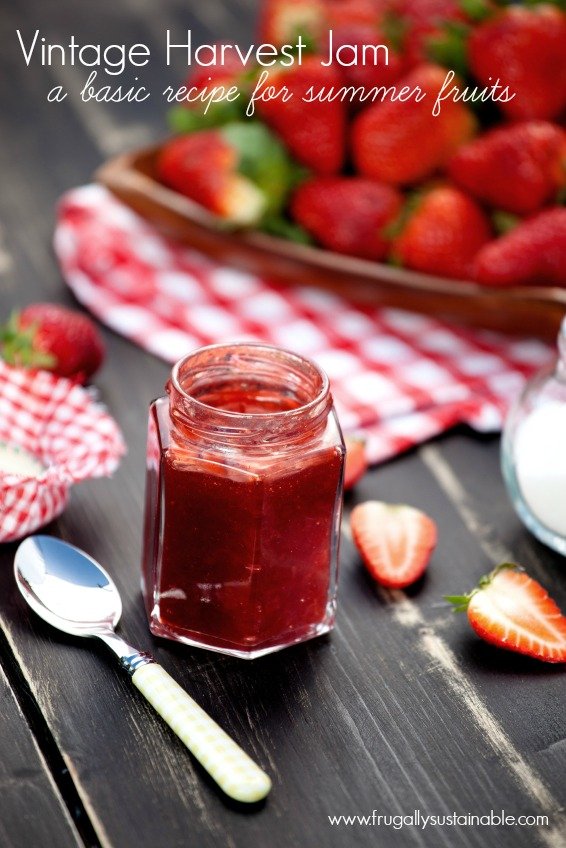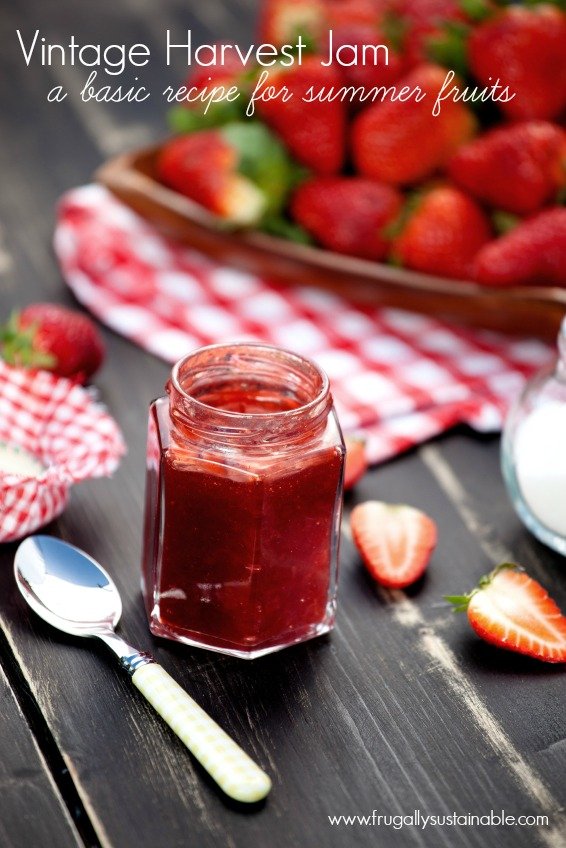 This photo was enhanced by me using PicMonkey's crazy-awesome photo editing!
Homemade jam.
It's a wonderful way to preserve an abundant harvest of fresh summer fruits!
I love making it and my family loves enjoying the goodness of homegrown throughout the year.
Here's a basic recipe that you can use to make jam with a multitude of summer fruits. Fruits such as…
strawberries
rhubarb
peaches
apricots
plums
nectarines
blueberries
raspberries
blackberries
sweet cherries
…can all be used in the following recipe!
Vintage Harvest Jam
Ingredients
Makes 2 1/2 pints
Method
Combine crushed fruit and pectin in a 5-quart saucepan and bring to a full rolling boil over medium heat.
Boil hard for 1 minute, stirring constantly.
Add honey and lemon juice. Return to boil and boil for 5 minutes, stirring constantly.
Remove from heat.
Skim off foam.
Ladle into clean, hot glass canning jars and cap.
Place jars into a water bath canner and process in boiling water for 10 minutes. Note: Be sure that the water is at least 2 inches above the jars. Click this link to learn more about water bath canning from SB Canning's Facebook group. And get your Home Canning Kit from Eartheasy by clicking this link. You can also pick up this 9 Piece Pressure Cooking/Canning Set if things get really serious.
Remove jars from canner.
Place on a thick cloth or wire rack and cool.
After 12 hours test lids for proper seal and remove rings from sealed jars.
Label with contents and date.
Additional Tips
-I always use Pomona Universal Pectin. It jells fruit without using sugar in the recipe. In this way, jams, jellies, and fruit spreads can be made without sugar or long boiling times.
-Many of the new jam recipes coming out are making an attempt at using less sweetener. It's all good…but keep in mind that every time you reduce the sugar/honey/date sugar/etc. you're reducing the time the jam or jelly can safely be kept in the pantry or cellar before mold will grow on it.
-Read more about preserving and canning by adding these books to your home library:
Now it's your turn! What's your favorite jam? Share your recipes or links to recipes in the comments!
And as always…if you really enjoyed this post I would be so honored if you'd click this link and subscribe to the blog! To those of you who have been committed readers, I sincerely thank you.