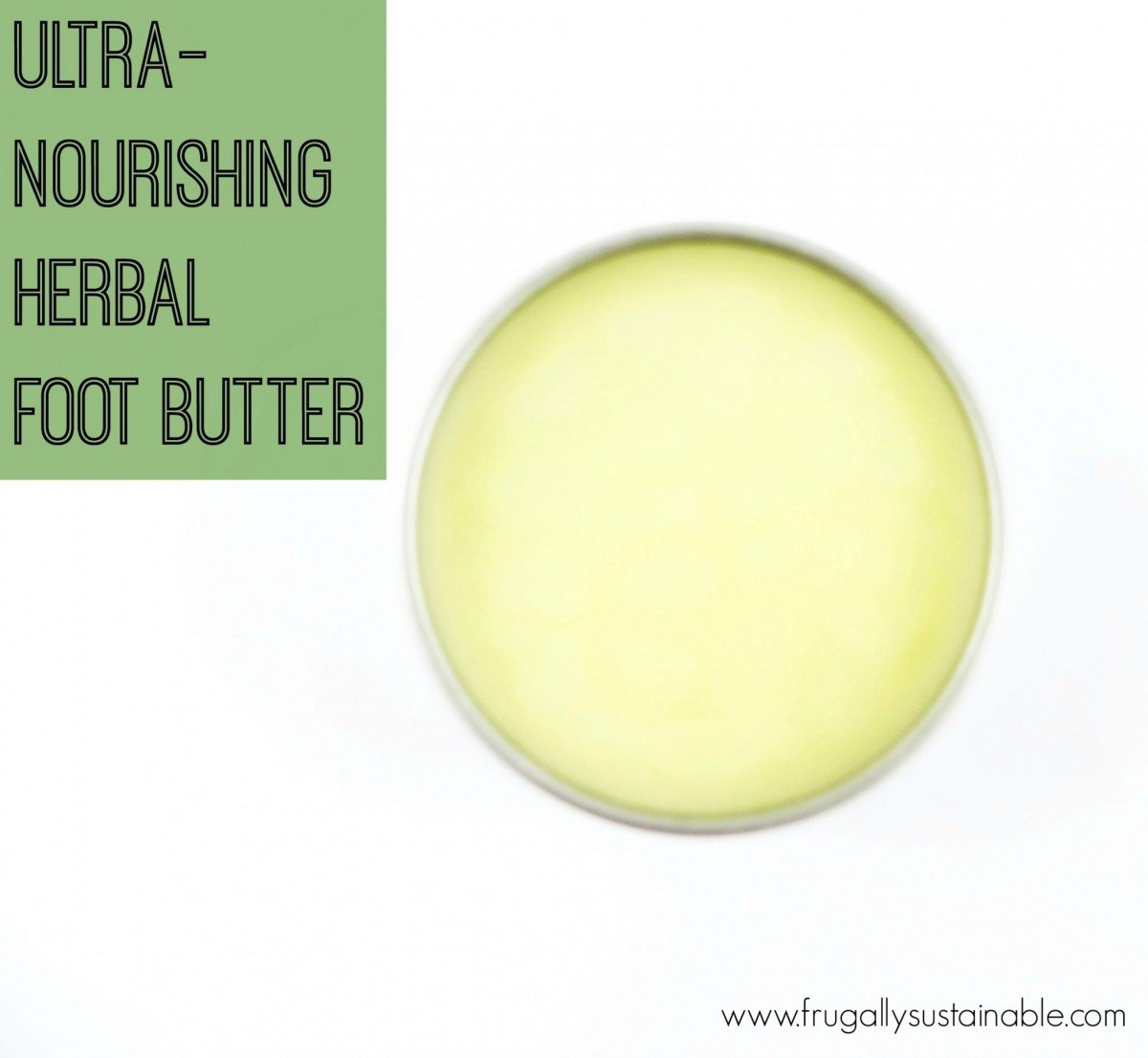 Foot butter.
Dry.
Hard.
Cracked.
Ultra Nourishing.
Velvety smooth.
A hydrating treatment for the toughest feet.
After making my own foot butter…I will never buy it again.
It's ::
and an excellent treat for your feet…especially this time of year!
Foot Butter
Ingredients
4 ounces (approximately 1/2 cup) shea butter
1 ounce (approximately 2 tablespoons) avocado oil
3/4 ounce (approximately 4 1/2 teaspoons) all-natural beeswax, grated or roughly chopped
2 tablespoons lanolin
1 1/2 teaspoons non-GMO vitamin E oil
30 drops essential oil blend (see "Notes" below)
For the highest medicinal value available choose dōTERRA™ Certified Pure Therapeutic Grade™ essential oils for yourself, your family, and your friends. Click here to purchase…
Method
In a small pot — over low heat — melt shea butter, avocado oil, beeswax, and lanolin.
Stir frequently.
Remove from heat and add vitamin E oil and essential oils. Stir well to distribute oils throughout mixture.
Pour into tins or jars.
Let cool on counter until hardened.
*This recipe makes enough for approximately 6-1 oz. tins or three 2 oz. glass jars. I also love to clean and reuse any and all glass jars!
Purchase tins and cosmetic glass jars online by clicking this link to Mountain Rose Herbs.
Notes
To create an ultra-rich, antibacterial blend of essential oils, I like to combine ::
menthol blend :: lavender, peppermint, and tea tree
grounded blend :: fir, cypress, ylang ylang, cedarwood, juniper berry, and vetiver
To use :: Massage a small amount into feet or other part of body in need of a refreshing and nourishing uplift.
Where Can I Get This Stuff
–Mountain Rose Herbs…they have everything you'll need by way of Bulk Herbs, Organic Oils & Butters, and Natural Products for Healthy, Natural Living! It's your one-stop-shop!
–For the ultimate all-natural healthcare alternatives choose dōTERRA™ Certified Pure Therapeutic Grade™ essential oils. Click here to purchase…
–Starwest Botanicals and The Bulk Herb Store also carries many of these ingredients if you'd like to price check.
This handcrafted Foot Butter
can be purchased in my Etsy Shop
by clicking this link.
I thank you for your love and support of quality handmade products!
Be sure not to miss a post, click this link to receive my free eBook and Frugally Sustainable tips by email.
DISCLOSURE: In order for me to support my knowledge-sharing/writing/blogging activities, I occasionally may receive monetary compensation for my endorsement, recommendation, testimonial and/or link to any products or services from this article. However, I only recommend products or services I have personally used myself and trust.