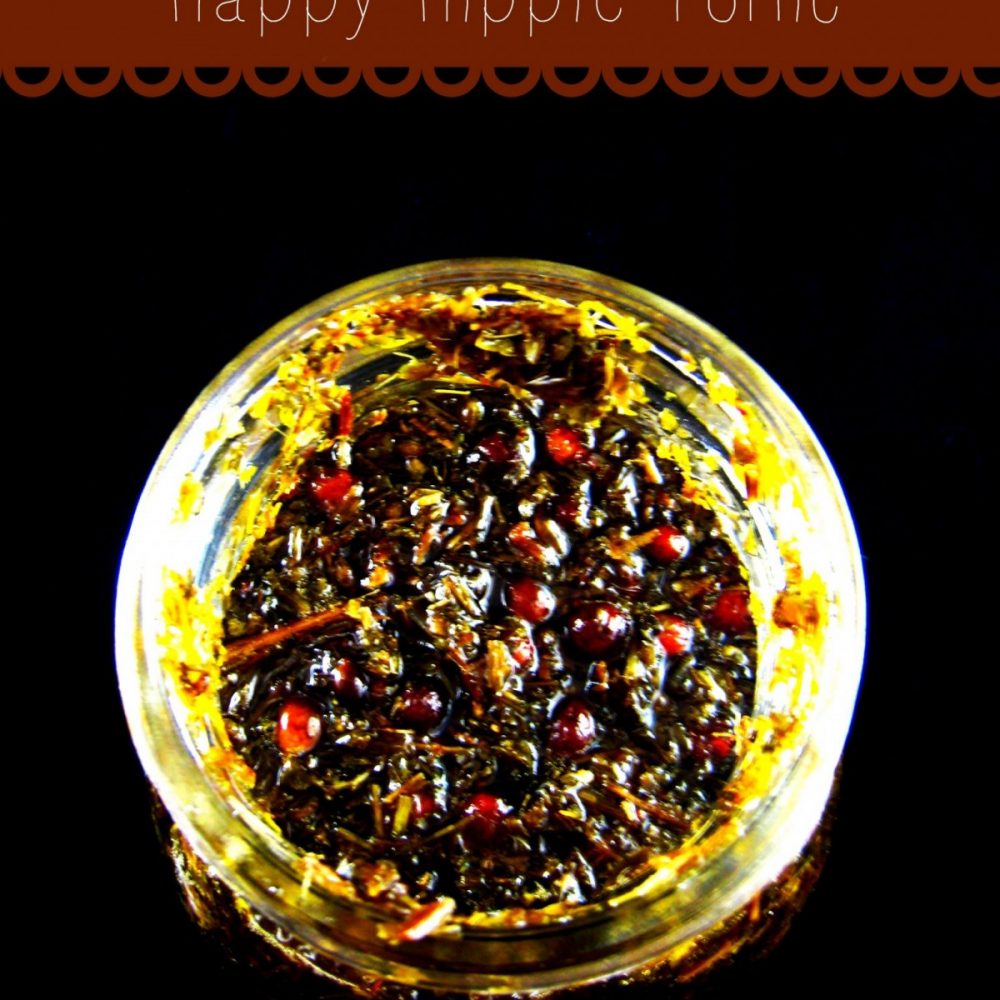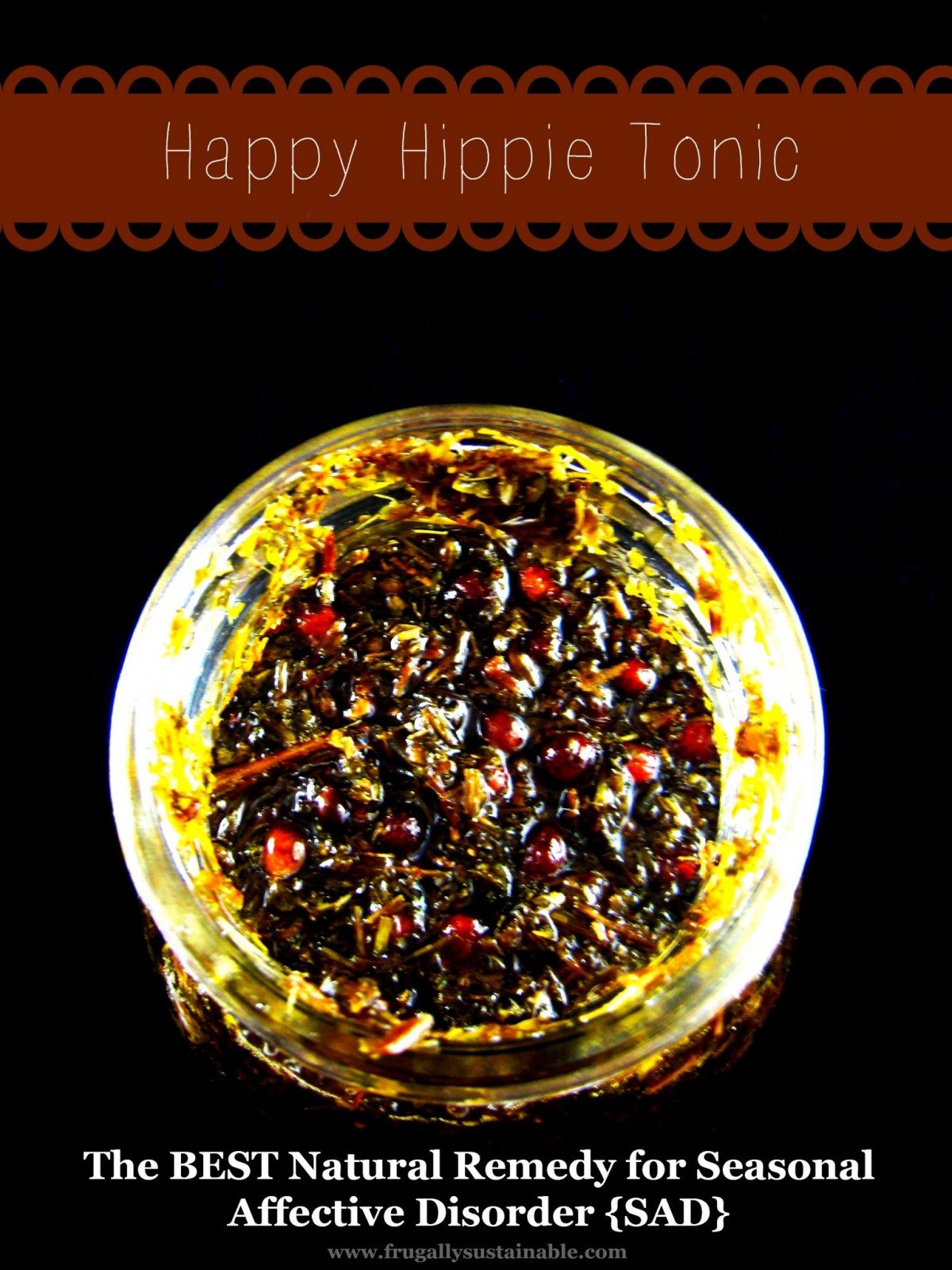 Deep-seated grief.
Feelings of loss.
SAD.
As our bodies transition from summer to winter, many of us begin to experience the seasonal effects (i.e. depression. tension, and lethargy) most often caused by:
the decrease in light between the Autumnal equinox and the Winter solstice
the body's ability to work with nature in regulating our levels of melatonin — read more here…
If you suffer from seasonal affective disorder (SAD), then you are all to familiar with these changes in personality — from happy and bright to depressed and lack-luster. You may find yourself having difficulty:
getting out of bed in the morning
finding fulfillment and joy
focusing on necessary daily tasks
managing your weight and diet plan (especially when it comes to carbohydrates)
The following magical, heart-healing botanicals — when combined in this powerful tonic — are liken to pulling back the curtains on a sunny day.
Perfect during the long months of winter…
…or anytime light and happiness are sought!
Happy Hippie Tonic
Supplies Needed
-any size glass jar with lid
-organic dried herbs (I highly recommend purchasing herbs at your local health food store. However, if they are unavailable to you there…the quality of Mountain Rose Herbs can't be beat.)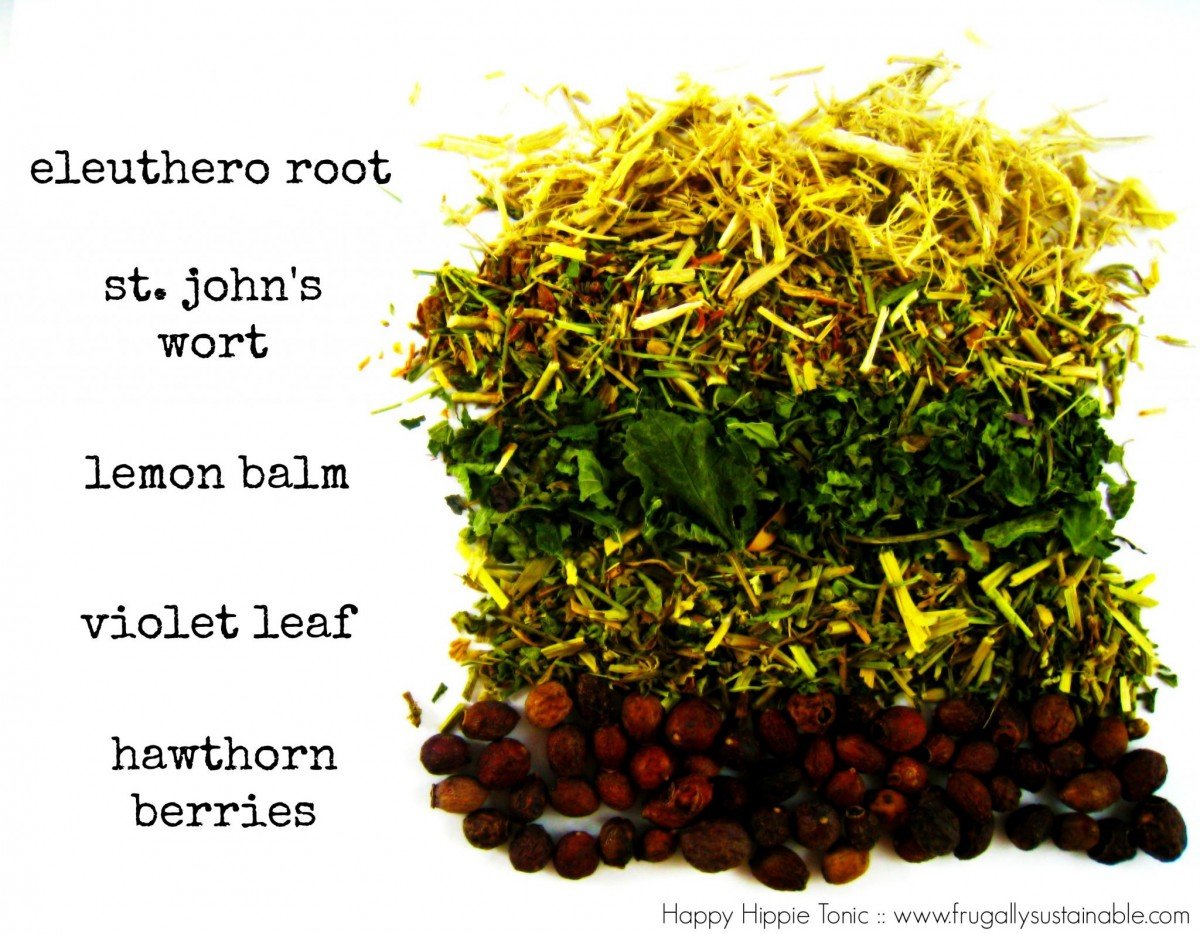 Ingredients
2 parts hawthorn berries
1 part St. John's Wort flower and leaf
1 part lemon balm leaf
1 part violet leaf
1 part eleuthero root
organic vegetable glycerin, to cover
pure water, amount based on glass jar size, see below
just a touch of brandy, optional
Method
Put herbs into a glass jar (your size choice) — filling the jar 1/3 full of dried herbs.
Bring enough water to moisten dried plant material just to a boil and pour over herbs.
Pour the vegetable glycerin over herbs to cover, filling the jar. Note: I like to use brandy to extract the maximum amount of goodness from the plants, and extend the self life of the tonic. If you are using, add approximately 5-10% of the total liquid in brandy to the jar at this time.
Seal the jar and shake until mixture is well combined.
Set the jar in a warm place and shake once or twice daily.
After 2-4 weeks (following the principles of tincturing with the moon), strain liquid through a cheesecloth. Squeeze as much of the menstruum as possible out of the plant material. Note: If so desired, repeat steps 1-5 using the liquid extract that is strained in place of the water and vegetable glycerin. This is referred to as a double infusion, and produces a much stronger, more effective medicine.
Pour the extract into dark amber glass bottles with dropper or keep in a glass jar in a cool, dark place. Label the bottles with the name, herbs, date made, and menstruum used. Will keep for approximately 2-3 years.
Recommended Usage
I like to take 2-3 dropperfuls of glycerite 2-3 times daily for 5 days, then discontinue for 2 days. Repeat cycle for several weeks or even months, as needed. Please contact your professional medical provider prior to use and for personal dosage recommendations.
Where Can I Get This Stuff?
–Mountain Rose Herbs…they have everything you'll need for this remedy! It's your one-stop-shop!
–Starwest Botanicals also has a beautiful selection of Bulk Herbs and Natural Products for Healthy, Natural Living!
–The Bulk Herb Store carries many of these ingredients if you'd like to price check.
Happy Hippie Tonic
is available for purchase
in my Etsy Shop.

See the listing by clicking this link.
DISCLOSURE: In order for me to support my knowledge-sharing/writing/blogging activities, I occasionally may receive monetary compensation for my endorsement, recommendation, testimonial and/or link to any products or services from this article. However, I only recommend products or services I have personally used myself and trust.