So, this past week was pretty crazy!
And if you follow me on Instagram @frugallysustain chances are you know why!
For at least the last bazillion years, I've been looking, but not super intensely, but sorta intensely — for a vintage camping trailer…
…and miraculously enough — a couple days ago the vintage camping trailer stars aligned and today I have the sweetest ole' girl sitting in my driveway!
Now the process of restoration begins! And my mind is spinning with plans and ideas!
All of this excitement has made for a bit of sleeplessness. So…I whipped up a quick batch of herbal tea to remedy the situation.
Throughout the realms of folklore, there have been several plant-based remedies created with herbs known to help induce a restorative sleep. One of the most common remedies has always been an herbal tea blend — one designed specifically with harmonious herbs that produce a sedative effect…taken just as the moon rises — before bedtime.
Herbs such as:
Chamomile flowers provide soothing relief for the nervous system.
Lemon balm gives us balance.
Valerian root + hop flowers have the power to relax and induce a deep, restful sleep.
Passionflower will bring a sense of calm.
Skullcap relieves sleeplessness related to an anxious mind.
In addition to this lovely tea, there have been a few other extremely powerful natural remedies that have transformed the way I sleep. And those have been:
You can find the recipe for those remedies above by clicking the links.
Now…on to the recipe.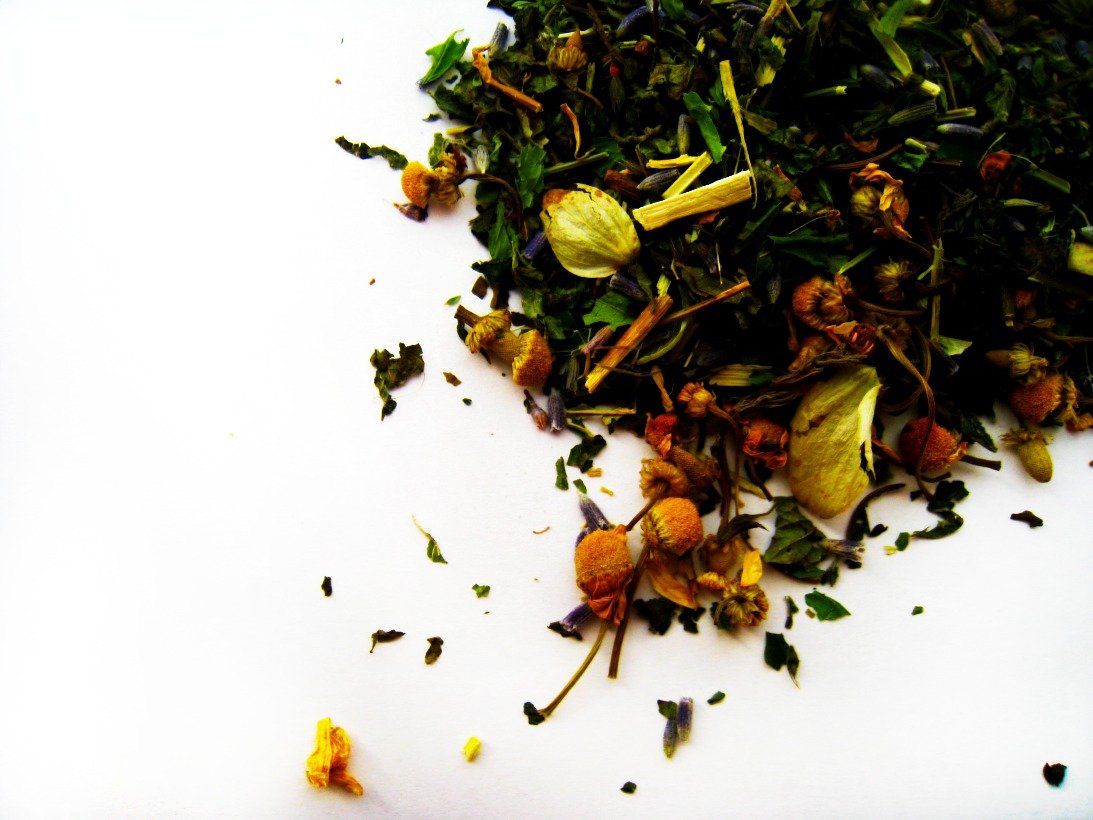 Moonrise Herbal Tea Blend
Ingredients
*Purchase organically-grown or wildcrafted herbs whenever possible.
*Parts are measured by volume not weight.
2 parts chamomile flowers
2 parts lemon balm
2 parts skullcap
1 part passionflower
1/2 part lavender flowers
1/4 part hop flowers
1/4 part valerian root
Method
Measure the parts of each of the herbs listed and mix in a large bowl until well combined.
Grab your single serving tea carafe (this is my absolute favorite way to make loose leaf tea), tea infusers, and/or tea pots…and brew a cup! (Note: I get all of my loose leaf tea-making supplies online from Mountain Rose Herbs.)
This herbal tea blend will keep stored in a cool, dark place for approximately 6 months. (Note: I like to store all of my teas in glass jars with tight-fitting lids.)
This tea is mild enough to use nightly. Take a cup 30 minutes before bed.
Where Can I Get This Stuff?
-Mountain Rose Herbs…they have everything you'll need for this remedy! It's your one-stop-shop!