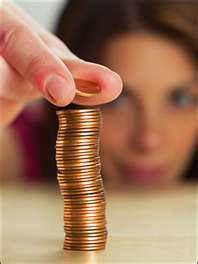 Becoming a one income family has opened my eyes in ways I could never express. The transition, to one income, was by far the most difficult. Living paycheck to paycheck became a reality. Saving money…well that wasn't happening! Our salvation came when we began showing some signs of discipline in addition to redefining our wants and needs. Frugality for this family comes now out of necessity. And, it has been the great blessing!
But, when living paycheck to paycheck leaves you little room for saving money, the blessings can be hard to find.You see, I know what it feels like when you are working so hard and it seems like you're getting nowhere. And, I know what it's like to wonder "how on earth will we make the ends meet come the end of the month?" Not to mention what we would do if an emergency were to happen or the car were to break down!For some of us it simply comes down to putting food on the table or putting money in the savings account, and the children have to eat.
Even when there is a little extra money, it's very hard to save. So how are we supposed to save when we're living paycheck to paycheck?I will tell you this…it is really, really hard, but it can be done. Sometimes our circumstances in life leave us paralyzed. Sometimes we feel desperate, which leads us to search for a quick fix or an easy way out. As I have learned, there are no quick fixes, no easy ways out, when it comes to money and saving it!It takes steady discipline. And trust… the lessons we as a family have learned over the days of this past year, through times of feeling pretty desperate financially, have blazed a path for us into the future. One that I am convinced we would have never chosen on our own. They have not been easy days! Oh no! Quite the opposite, but they have been good nonetheless. In fact, I wouldn't trade them for the world. These days are maturing us as individuals, they are strengthening our family, and they are inspiring us to learn all sorts of sustainable and entrepreneurial things we never would have ever dreamed or pursued!Here are 30 tips that have helped us gain some traction and save money:
1. Redefine wants and needs (make a list)
2. Create a budget and stick to it.
3. Remember: "You're not stuck unless you choose to be."
4. Count your blessings rather than all the difficult things in your life.
5. Commit to living debt-free.
6. Use any extra time you have in your day to increase your income.
7. Start saving small amounts (i.e. $2, $5, $10 per month).
8. Teach yourself a new skill such as sewing, painting, or computer software programs (utilize DIY books or YouTube)!
9.  Read books that will help develop your interests (use the library).10. Ask friends and family to save cans for you. Recycle them when you need a few extra bucks.11. Trade in DVDs or video games at a game exchange shop.
12. Instead of giving away your children's clothing, take it to a consignment shop and get some cash or a store credit.
13. Check out itunes U. There are thousands of free college courses, lectures, and instructional videos for you to learn from. That's right…all free!
14. Have an extra room in your home…rent it out.
15. Look into buying in bulk and discounted food programs.
16. Remember: Saving money is making money.
17. Save your tax return, don't spend it.
18. Line dry clothes
19. Drink water instead of buying juice
20. Shop yard sales
21. Barter services with friends and/or neighbors.
22. Find a hairstylist to do your family's hair in exchange for you cleaning her house.
23. Sell the cutter (craigslist, have a yard sale, etc.)
24. Pass out fliers in wealth neighborhoods offering a Christmas light hanging service
25. Start a blog 
26. Grow-Your-Own food
27. Remove negative influences from your life
28. Stay positive
29. Stay faithful
30. Do what you love!
When attempting to gain traction for the first time, I suggest starting by spending some time redefining "enough". Take a good look and your needs vs. wants. Then begin setting a few attainable goals each month. Once those goals are accomplished, try adding a few more. Little by little, and only when you feel ready, increase the goals. Setting goals, who cares if they are big ($100 per month savings) or small ($2-$5 per month savings) just so long as they are attainable, can give you enormous encouragement when you actually reach them. Never give up. It's true, there are no easy outs and our situations will not change overnight. But if you keep up the hard work, continue with the discipline, constantly re-evaluate needs and wants, keep setting attainable goals, pursue your passions, and keep going when the going gets tough, I promise you it will pay off in the end.Be encouraged today! You are not alone! The answer is out there. To quote Albert Einstein:"In the middle of difficulty lies opportunity."
Take the time today to leave an encouraging comment! It could be exactly what someone needs to hear.
Have you lived paycheck-to-paycheck? Are you now? How did you make it through?