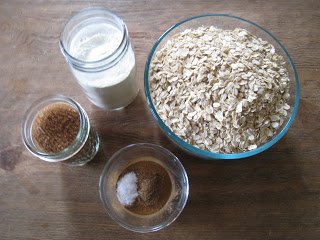 At least one person in our house eats oatmeal every single day. We love it! Sometimes it's eaten for breakfast and sometimes it's eaten as a quick, yummy snack.
But have you noticed the price of boxed instant oatmeal these days?
Wow! $3.99 for a box of 8 packets of organic instant oatmeal! We easily could go through 4-5 packets a day if I were to keep the pantry stocked with it. And that adds up to a lot of money for oatmeal. Not to mention all the waste coming from that one box!
I knew I had to come up with a solution! So this is what I did…
Instant Oatmeal Alternative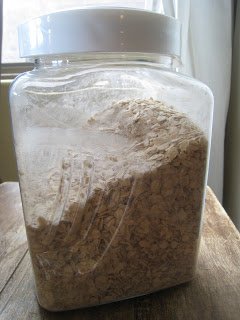 Gather the ingredients:
6 cups organic rolled oats
1 cup dry milk powder
3/4 cup brown sugar
1 tablespoon ground cinnamon
1/4 teaspoon ground cloves
1/2 teaspoon allspice
1 teaspoon salt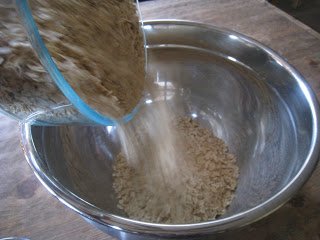 1) Combine all ingredients in a large bowl.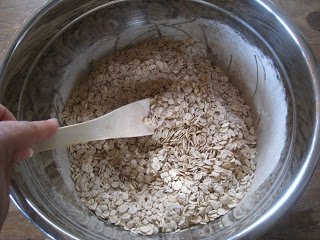 2) Mix well.
3) Store in a large container. Label and date. Keep in a cool, dry place for up to 6 months (it never lasts that long at our house, but good to know anyways).
Directions for use: Shake the container to mix ingredients. In a small pot, heat 2/3 cup water to boiling. Add 1/3 cup oatmeal mix. Note: There is approx. 1/3 cup of oatmeal in a packet of instant oatmeal. You may prefer to increase this amount based on the size of servings needed. Reduce heat and cook for 4-5 minutes, or until desired consistency is reached, stir frequently.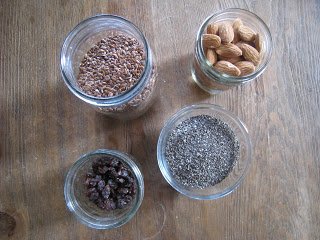 Optional add-ins:
My children love the maple syrup and brown sugar variety. This mix, as a base, works wonderfully for that. Once placed in a serving bowl, I top the oatmeal with maple syrup and they are good to go! However, here are a few of the other add-ins that we use when the mood strikes:
Diced dried apples, raisins, peaches, strawberries, blueberries, bananas, or cherries (It usually depends on what I have on-hand from the season. Get creative!)
Chopped nuts
Flax
Notes:
-Buy in bulk. It will save you tons more! I get a 25 lb. bag of organic rolled oats for $30, making the cost of oats for this recipe $1.50.
-You could use instant oats here, instead of the rolled oats, to reduce the cooking time. If choosing to use instant oats you will need to decrease the amount of water used in the recipe (i.e. 1/3 oatmeal mix, 1/3 cup water).
-This recipe can be cooked in the microwave. If you are using rolled oats, cook on high for 4 minutes. If you are using instant oats, cook on high for 2 minutes.
-Many recipes advise to pulse the oatmeal in a food processor in order to create a quicker cooking oatmeal. Honestly, by the time I prepare the food processor, pulse the oats, and clean up the mess, I could have easily spent the extra 3-4 minutes cooking the oatmeal. That's just my humbled opinion.
-I've also seen recipes that place individual servings in plastic bags. Good for those who want to use this to take on-the-go. You still run in to the waste issue (unless you reuse the baggies) and the additional cost of using all those baggies. We're trying to reduce our waste and simplify, so the method of keeping it all in a large container works best for me!
What's your money-saving tip for today? Go ahead…share it!