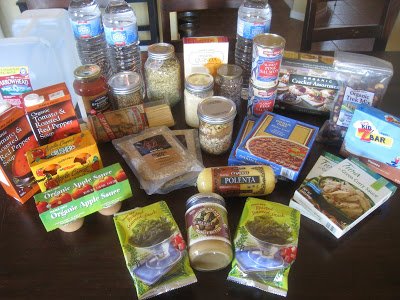 These days the idea that a disaster could hit at any moment is not so unrealistic. Whether it be natural or created by man, disasters leave devastation especially for those who are unprepared.
The first few hours and days following a disaster are the most critical. That is why when I read Amy's Emergency Meal Kit Challenge over at Homestead Revival I knew I had be a part of spreading the word.
I highly recommend you take the time to read Amy's post. It is so informative and makes a really strong case for preparing a three-day emergency meal plan. You see, my family and I have a pretty substantial amount of food stored. So when I was first reading her post I thought it would be irrelevant for us. But the more I read the more I decided it made a lot of sense.
If the grid were to go down for an extended period of time, initially we would need to eat those perishable items stored in the refrigerator and freezer (this is partly why I am really interested in learning how to can meat). Even if it was a temporary disturbance the 3 day meal plan would give us peace-of-mind. Knowing that we wouldn't have to be out in the middle of the chaos as people rush the grocery store, it's worth it all.
And most importantly, it provides us another way to share and help our neighbors who may be in need during such a time.
This meal plan contains items that require little to no water in order to reconstitute. It also contains a few of my Meal-In-Jars recipes. It is important to store the necessary water and fuel needed to cook the meals along with the food.
Note: We are avid campers/backpackers so we do have a camping stove along with a backpacking stove in the garage. We also have utensils appropriate for use with these cookers. Along with our monthly food storage purchase, we purchase a few cans of fuel.
Day 1
Breakfast: Meals-In-Jars Apple Oatmeal
Lunch: Crackers with Canned Salmon
Dinner: Fully Cooked Brown Rice with Tuna in Green Curry Sauce*
Day 2
Breakfast: Fresh pastured eggs, from our backyard hens, and Meals-In-Jars Apple Oatmeal
Lunch: Dehydrated Split Pea and Vegetable Soup*
Dinner: Spaghetti with lentils (Tip: substitute lentils for ground beef and use angel hair pasta instead of spaghetti 'cause it cooks in 4 minutes with less water)
Day 3
Breakfast: Meals-In-Jars Apple Oatmeal
Lunch: Tomato & Roasted Red Pepper Soup*
Dinner: Polenta and Dehydrated Black Bean and Vegetable Mix*
*Denotes Gluten-Free Meals
Snacks: Fruit & Nut Trail Mix, Apple Sauce, Peanut Butter, Energy Bars, Seaweed/Kelp Snacks (good source of iodine)
Water: 3 1.5 liter bottles of water are all that is needed for cooking; and, a 2.5 gallon container of water is for consumption.
This is something anyone can do no matter where you live! It requires minimal storage and is very inexpensive (especially if you make your own).
So…what does your emergency meal plan look like?