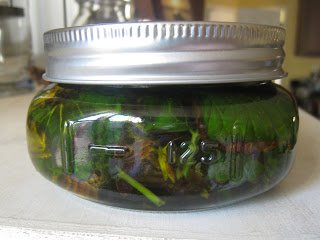 Given a chance, the perfect salve will heal most aliments of the skin.
When I first began making homemade salve, the first obstacle I had to overcome was fear. I was afraid I wasn't going to get it right! I had no idea what I was doing. But…I did it anyways. Today, it has become a form of creative expression for me; and, another way I am able nurture my family without spending tons of money.
I first learned the basics of salve making from these two posts over at the Simple Green Frugal Co-op and FIMBY (I highly recommend that you take the time to read these posts as I will not cover the details as well as these writers have). When making salve, it's always best to first consider what you are attempting to treat. My formulas are almost always multi-functional, made with ingredients that I have on hand at the time.
Fresh lemon balm abounds in the herbal garden these days. It is super easy to grow and is one of my most favorite herbs. For our purposes today, I will focus on the external uses and medicinal benefits of lemon balm.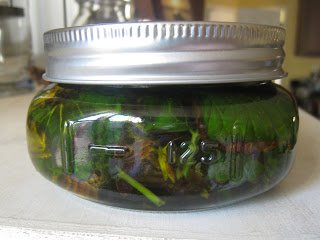 I make a lemon balm infused olive oil (it sounds so sexy doesn't it…lemon balm infused olive oil). Anyway, to do this chop up one cup of fresh picked lemon balm, place it in a jar, and pour one cup of olive oil over it. Let it sit in the sun for at least two weeks, strain, then bottle for use.
Lemon balm contains antibacterial and antiviral properties. Medicinal benefits include the treatment of:
•Shingles (herpes zoster)
•Insect bites
•Rashes
And here's the recipe for my Rash Treatment Salve:
1 tbsp. (1 oz.) Beeswax
8 tbsp. (4-5 oz.) herb infused carrier oil such as olive, jojoba, almond, avocado, coconut, shea butter
2 tsp. vitamin E oil
3 drops tea tree oil
4-5 drops lavender essential oil
Melt carrier oil, beeswax, and vitamin E oil over low heat. Remove from heat and add tea tree and lavender essential oils. Pour into prepared jar for storage. This recipe makes enough to fill two 2 oz. glass jars.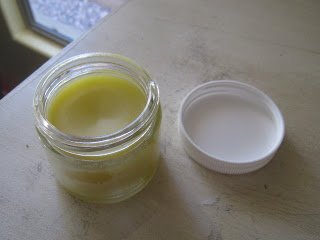 Notes:
-Calendula is another very good herb/flower that is useful for skin health. Calendula is very easy to grow and reseeds itself well. You can easily substitute it for the lemon balm here.
-In my recipe I used a mixture of carrier oils. You don't have to stick to just one. Just be sure not to exceed the 4-5 ounce mark.
-We use the Rash Treatment Salve on everything. In fact, my baby has never had a diaper rash thanks to the use of this salve with every diaper change. If you are worried about the lavender essential oils you may omit them for your newborn.