Split ends?
Frizz?
Lack-luster, dry, brittle hair?
This easy to make, all-natural hair balm is the treatment you're looking for!
Moisturize.
Smooth.
Restore.
Benefits of the Ingredients
Oils used in this treatment are foundational in providing conditioning effects.
nourishes and feeds the scalp to control dry scalp flakiness and to kill dandruff causing bacteria.
protects the skin from the effects of chlorine in pool water — just in time for summer.
strengthens the hair shaft.
Jojoba oil is a high-quality, super moisturizer that hydrates the hair leaving it soft and perfectly conditioned.
The herbal properties of this balm provide tons of silica and antioxidants. In other words, they work by penetrating the broken parts of the hair shaft…
Results…
…damaged hair looks healthy, shiny, and full.
Herbal Hair Balm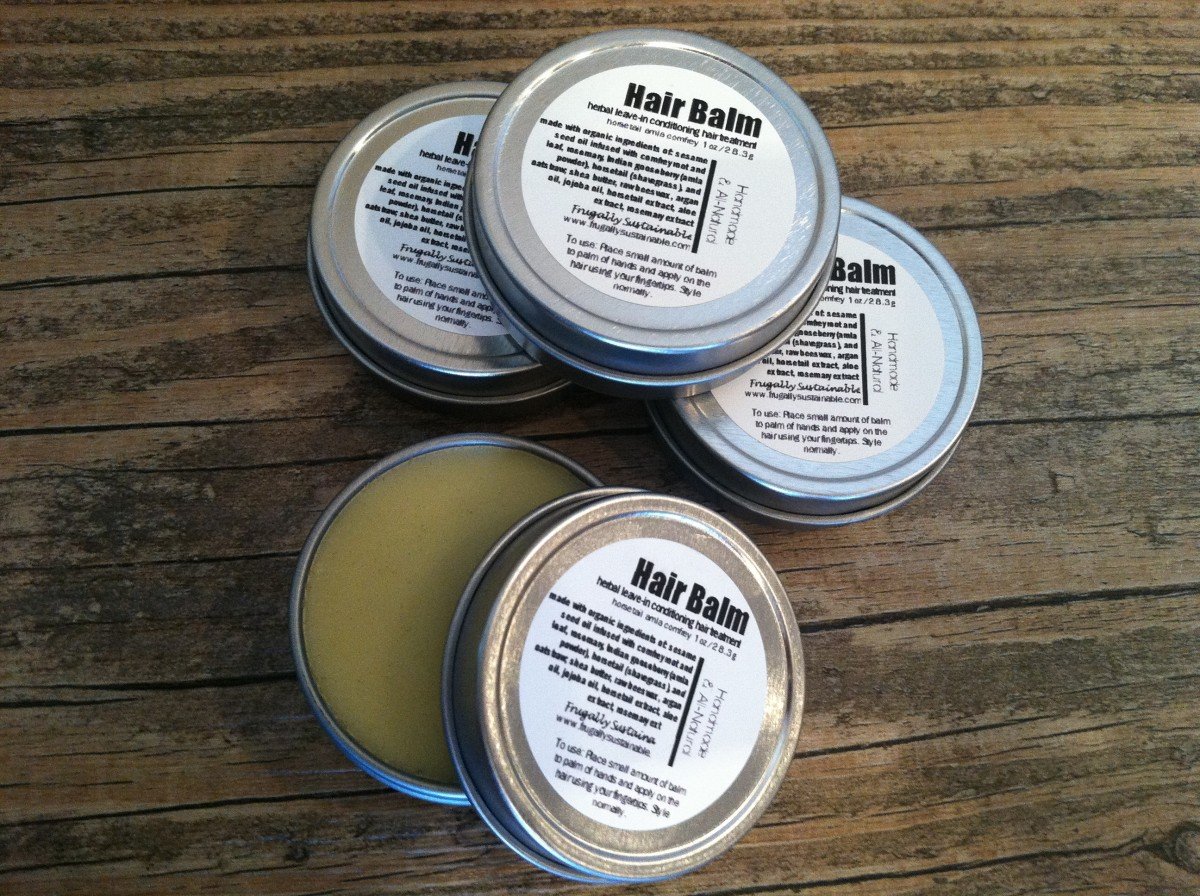 Ingredients
*Use organically-grown ingredients whenever possible.
Optional Add-Ins
-0.2 ounces Horsetail Extract
-0.4 ounces Aloe Leaf Extract
-0.1 ounces rosemary extract
-1 ounce amla oil
–Organic Essential Oils, of choice
Method
1. Weigh the dried herbs using a kitchen scale.
2. Prepare an oil infusion by using the sesame oil and dried herbs. You can do this one of three ways:
Cold Infusion. In a glass mason jar, cover the weighed herbs with 5-6 ounces of oil. Stir to combine, and allow oil and herb mixture to steep for 4-6 weeks.
Hot Oil Extract. In a glass mason jar, cover the herbs with 5-6 ounces of oil. Stir to combine. Place the glass jar in a pot on the stove, or in a crock pot, filled with a few inches of water on lowest setting (Be sure to put a towel on the bottom of the pot.). Infuse the oil and herbs for 4-8 hours, a day, or up to 3 days. Note: Watch the pot and add water as it evaporates.
Alternatively. According to Rosemary Gladstar in her book Herbal Recipes for Vibrant Health: 175 Teas, Tonics, Oils, Salves, Tinctures, and Other Natural Remedies for the Entire Family you may also do it this way; "Place the herbs and the oil in a double boiler and bring to a low simmer. Slowly heat for 30 to 60 minutes, checking frequently to be sure the oil is not overheating."
3. Strain the oil and herb infusion through a cheesecloth. Squeezing to extract as much oil as possible. Be sure you collect at least 4 ounces of herb infused oil.
4. Combine herb infused oil, shea butter, jojoba oil, and argan oil in small pot or double boiler over low heat and melt, stirring frequently.
5. Over very low heat continue stirring and melt 1-2 ounces (depending on how hard you'd like your salve) of beeswax into the oils. I suggest starting with the lesser amount of wax and adding more if needed. Note: To check if the mixture is the right consistency, because the salve hardens as it cools, Rosemary Gladstar again suggests placing a "tablespoon of the mixture in the freezer for just a minute or two. If it's soft, add more beeswax; if too hard, add more oil."

6. When the consistency is to your liking, add essential oils and extracts, if using. Stir well to combine and pour into tin containers. Note: I get my salve containers here…
To use
A little goes a long way.
Apply sparingly to palms and rub onto wet or dry hair. Work through hair and style normally for best results.
Where Can I Get This Stuff?
–Starwest Botanicals…they have everything you'll need by way of Bulk Herbs and Natural Products for Healthy, Natural Living! It's your one-stop-shop!
–The Bulk Herb Store also carries many of these ingredients if you'd like to price check.