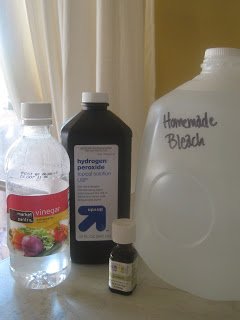 When we clean our bathroom, kitchen, or laundry we certainly have expectations that must be met. We expect that mold, grime, odor, and stains all be removed, right? We especially want our clothes to smell nice and fresh. Unfortunately, we are beginning to learn that commercial product producers are using harsh, toxic chemicals in order to meet our expectations.
For those of us concerned with providing for the overall health of our families, this poses a serious problem!
One of those products is in fact a traditional household cleaner…bleach. This may not be a surprise to you as the harmful side effects of bleach have been known to consumers for many decades. However, it remains as one of the leading poisons found in most homes.
Harmful effects of using bleach include, but are not limited to:
· Irritation to the eyes
· Respiratory system irritation
· Throat irritation
· Severe allergic reaction with skin contact
There is a more natural, safe alternative. The homemade bleach alternative.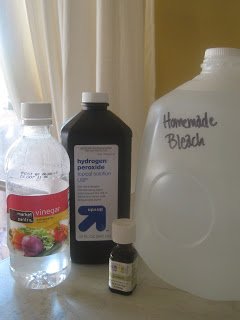 Homemade Bleach Alternative
– 1 ½ cup 3% hydrogen peroxide
– ½ cup white vinegar or lemon juice
– Pure water to fill gallon jug
– 10 drops lemon or lemongrass essential oils (optional/omit if using lemon juice)
Pour hydrogen peroxide, vinegar or lemon juice, and essential oils in gallon jug. Add water to fill. Cap and store.
Notes:
-This is a color-safe bleach alternative.
-Add a cup of homemade bleach alternative to the wash for brighter, softer clothing.
-May be used in bath, tub, and toilet cleaning.
-No need to dilute.
-For tough-on stains soak clothing in a bucket with this solution. You may also spray on stains prior to washing.
UPDATE: I humbly admit that I was unaware of the resulting product created when combining hydrogen peroxide and vinegar. In their purest and most concentrated forms, vinegar and hydrogen peroxide form a compound called Peracetic acid. Known for it's sanitizing properties, I consider it still an excellent alternative to bleach. However, there is conflicting research regarding it's use. This recipe utilizes a very diluted form of Peracetic acid and our family has used it without harmful effects. Research this, learn and determine what is best for you and your family. A nice alternative to this alternative (smile) is to substitute lemon juice for the vinegar. And please feel the freedom to join in the discussion concerning this topic so we can all learn together. Please share with us all what you discover!
Leave a comment letting us know your thoughts on bleach? Have you ever used a bleach alternative? What were your results?