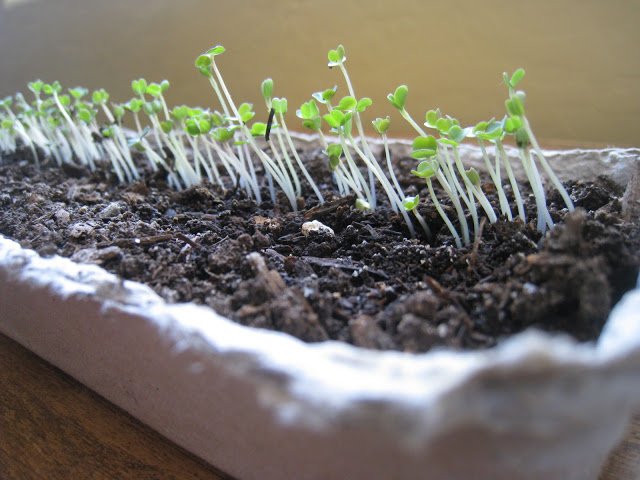 There are those of us who have never grown anything in our lives! Then there are those of us who are experienced gardeners with large plots of land and a greenhouse. Oh…and let's not forget everyone in between!
No matter your level of gardening know-how, growing your own winter lettuce and/or microgreens can be a gratifying, empowering, and pleasurable pursuit during the cold months of winter. Not to mention the added benefit of being able to provide superb nutrition for your family through homegrown, fresh winter greens.
Benefits of Growing Your Own
Besides the extreme enjoyment I receive from growing herbs, growing lettuces and microgreens come in a very close second. They are:
Easy to grow
Produce well indoors
Require very little care
A nutritional powerhouse
Although it is very tempting and not to mention convenient, to simply go to the store and buy a plastic bag of spinach, mixed greens, or arugula; by growing your own you are saving yourself and your family from ingesting countless toxins. Did you know: Bagged greens are washed and treated in a water solution containing 50 to 200 ppm of chlorine. Interestingly enough, swimming pools only require an average chlorine level of 2 ppm and many sources warn of using levels higher than 10ppm.
Growing your own is sounding better and better! At least you know exactly what is in and on you food.
What To Grow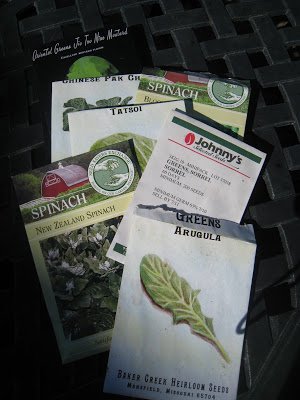 During the winter months, we love to grow:
Sorrel
Tatsoi
Chinese Pak Choy
Oriental Mustard Greens
Spinach
Mizona
Arugula
However, any ole package of mesclun seeds or microgreen seeds will do. In the past I've even scattered my seeds for sprouting on a seed tray a top potting soil; and they've grown into lovely microgreens. Don't stress about getting the perfect seed from a specific seed company. Just find something locally and don't be afraid to ask the employee at your favorite nursery for help. They are gardeners at heart, and they love to give advice!
Where To Grow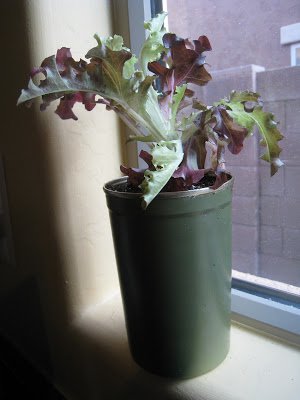 Plant seed in an organic rich potting soil or compost. The major issue you have growing indoors is moisture level. Potting soil is good because it is designed to regulate moisture. I'm just to cheap to buy it and I've always had good luck growing in my own compost. Tip: Use a spray bottle or mister to keep top layer of soil moist until seedlings emerge.
Re-purpose waste by using trash to grow your greens! There's something so special about seeing the life of a plant being nurtured in something that most consider to be useless. Plus, growing indoors leaves me with very little growing space. I am able to grow and harvest big lettuce plants on windowsills, without supplement light, throughout the house by using:
Tins Cans
Small pots
Egg cartons
The cardboard toilet paper rolls
Yogurt containers
Plastic juice bottles
The sky's the limit…get creative!
When To Harvest
Within 3-5 days you will begin to see the seedlings emerging. As the plants begin to grow and get bigger, begin harvesting the outer leaves whenever you need them for use in meals. The plant will continue to grow from the inside out, giving you a continuous harvest all winter long.
Resources
-If you can't find what you're looking for locally or choose to order seed online, I recommend to buying from Seed Savers Exchange, The Sprout People, Johnny's Seed, Baker Creek Heirloom Seeds, or Gardener's Supply Company. They're all great companies and I've ordered from each without difficulty.
-Interested in learning how to grow during the brutal winter? I highly recommend Eliot Coleman's book The Winter Harvest Handbook: Year Round Vegetable Production Using Deep Organic Techniques and Unheated Greenhouses. Great tips and information especially for those living in zones 4 and 5!
Share with us your winter growing methods! What are your favorite veggies to grow this time of year?
Inspirational Sources:
–The Winter Harvest Handbook: Year Round Vegetable Production Using Deep Organic Techniques and Unheated Greenhouses
–Forgotten Skills of Cooking: The Time-Honored Ways are the Best – Over 700 Recipes Show You Why