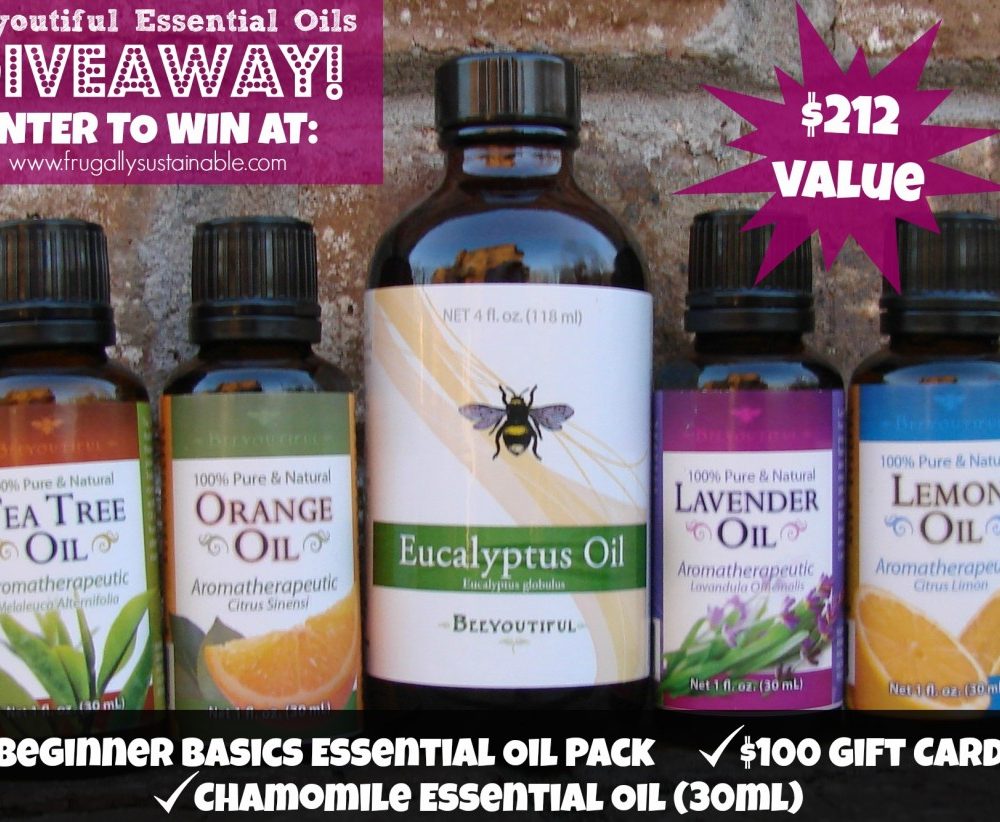 Remember earlier in the week when I shared with you the article, "The Essentials on Oils: How to Save Money on the Top 5 Essential Oils for Your Home"
Well…
…after working closely with the fine folks at Beeyoutiful, I am SUPER excited to giveaway an awesome prize package from a company who really cares about natural health and helping others attain it!
So many people are looking for a place to start when it comes to essential oils!
Because let's be honest, with all the information and essential oil companies circling around out there…it can be scary, overwhelming, and financially paralyzing when trying to figure out where to begin.
That's why this unique prize package is PERFECT!
It includes everything you need to stock your Home Herbal Medicine Chest — with pure, high-quality essential oils — today!
Beeyoutiful: Healthy Living for the Real World
I LOVE essential oils — and use them in my home daily.
And if truth be told, I'm more committed to quality, efficacy, purity, and ethics…than I am brands.
I find Beeyoutiful (check them out by clicking this link) offers the most cost effective, pure essential oils I've personal experienced.
Not to mention they have GREAT customer service!
In fact, they are the small, family-owned and operated essential oils company that I recommend to those on a budget, looking to save money on oils without sacrificing on purity and quality! (*NOTE: Read more about Beeyoutiful Essential Oils in their article Essential Oil Quality – How pure are our oils?)
If you're a blogger — or simply a lover of natural, plant-based healing — and would like promote Beeyoutiful's line of essential oils click here to earn money and become an affiliate!!!
The Prize
Entering the giveaway will give you the chance at winning:
BONUS :: You will receive an EXCELLENT reference book — perfect for starting your essential oil journey — The Complete Book of Essential Oils and Aromatherapy: Over 600 Natural, Non-Toxic and Fragrant Recipes to Create Health – Beauty – a Safe Home Environment
How to Enter the Giveaway!
It's super easy to enter the giveaway.
Simply follow the three steps below:
1. Click on the following link:
 Beeyoutiful: Healthy Living for the Real World
 (It will take you to the Beeyoutiful website to read about the products and company. After that just head back this way and complete the last two steps.)
2. Click this link to subscribe and get Frugally Sustainable tips delivered to your email fresh off the press!
Note: In order to be eligible to win you must be subscribed at the time the winner is drawn.
3. Use the Rafflecopter widget below to enter the giveaway.
Note: The giveaway is open to U.S. residents only. I will announce the winner within 48 hours of the end of the giveaway. No purchase necessary to win.
Good luck everyone!!!
Be sure not to miss a post, click this link to receive my free eBook and Frugally Sustainable tips by email.
DISCLOSURE: In order for me to support my knowledge-sharing/writing/blogging activities, I occasionally may receive monetary compensation for my endorsement, recommendation, testimonial and/or link to any products or services from this article. However, I only recommend products or services I have personally used myself and trust.