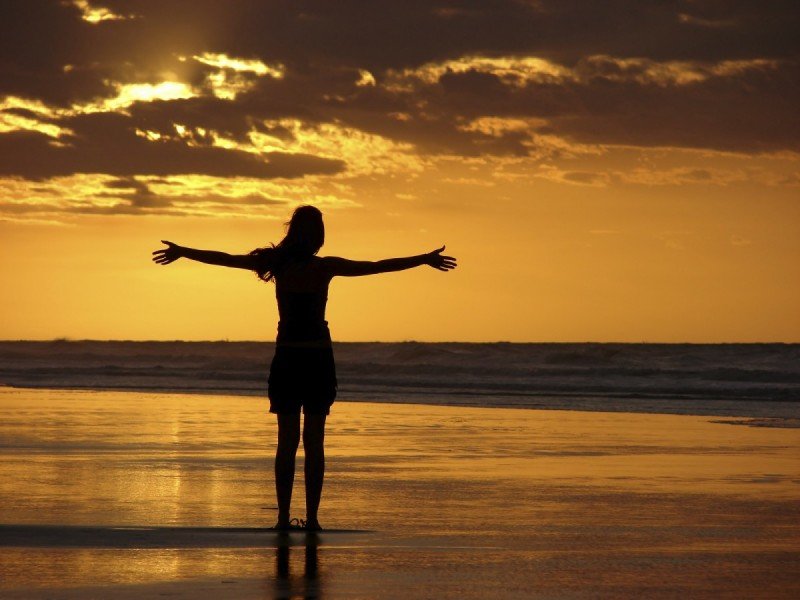 If you have a garden and a library, you have everything you need.
-Cicero
There are so many families that are currently struggling daily to keep their heads above water…they have lost their jobs, they have lost their homes, and they're earning much less than they are acustom to. Yet some of these same people are raising their children with deeply-rooted values, enjoying an intimate relationship with their spouse, and finding joy in all things — despite the difficulties they're experiencing.
It proves that you can live on a tight tight budget, find happiness, and experience the good life all at the same time!
How to live the good life no matter what the checkbook says.
Living the good life has everything to do with quality over quantity and people over possessions. It has very little to do with how much money you have.
Given that assumption, here are a few suggestions to help us prioritize those things that truly matter — no matter what the checkbook says.
1. Develop your passions. Money and consumerism dampens our creativity and puts the fire out on our passions. When we learn to appreciate who we are, and what we have, our passions have the ability to reignite. You already possess everything you need to live the good life — it's time you embrace who you are and what you love.
2. Learn a new skill. Developing our passions may mean we have to learn a new skill — or refine old ones. But this doesn't necessarily mean we need a formal higher education! That's right…contrary to popular belief, you don't need to spend thousands and thousands of dollars obtaining a degree in order to live the good life. Read! Read everything you can get your hands on that talks about the things you are interested in. On top of reading, there are several excellent ways to learn a new skill that won't cost you a penny:
The Lost Art of Apprenticeship
YouTube
3. Invest in people. For most of my adult life, this has been my motto. If ever in doubt…invest in people. The people that matter don't care about your money, they care about you and want you. Living the good life involves sharing it with others and when we prioritize and invest in people we always get a return on our investment.
4. Volunteer you time. Volunteering your time to help those who are less fortunate than you is a big piece to the 'good life' puzzle. I don't care who you are, or how little you have, there's always someone who has less. There's always someone worse off. I use to think to myself, "I can't wait until I'm out of debt 'cause then I can give more." Then I realized I can give more now — I can give my time at the shelter, I can give my time to homeschooling my children, and I can give my time teaching my neighbor how to start a garden — and when I give my time, I feel fulfilled.
5. Enjoy nature. I think that a lot of people think that traveling, leisure, and vacationing have to be some big thing, like going to Europe or the Caribbean, but it really doesn't have to be. You know what we do? We go out into nature — camp, hike, take a walk on the beach — you don't have to go far in order to experience a different a different way of life. Growing up we hardly ever spent the night in a hotel, and I never even traveled internationally until high school (and that was only to Mexico). Nonetheless, I still feel like a well-traveled individual, primarily because of the love for nature that my Dad and Mom instilled into me.
6. Health is wealth. And prevention is key! Take care of your body, mind, and soul. Eat a healthy diet, reduce stress, and nurture your spirit. Nothing has the ability to destroy the good life — and our financial stability — like a chronic illness. And who's to say, illness may come in spite of all the "right" things that we do. Yet, all things point to a better quality of life when we take care of ourselves. And as we've discussed before, eating simple, healthy, in-season foods doesn't have to expensive and living frugally often leads to less stress.
7. Stay home. Stop shopping, stop running from hear to there, stop thinking that you have to take some extravagant vacation, all to experience the good life. Why don't you stay home for a change. Enjoy the home that you work so hard to pay for. Cook from scratch at home…instead of eating out. Workout at home…instead of going to the gym. Relax at home…instead of going to some fancy hotel.
Our happiness and contentment in this life is dependent only on our ability to enjoy what we have. The good life is waiting…
Now It's Your Turn
Daily Goal: What small step can you take today that will lead you closer toward the good life?
Download: The 23 Day Frugal Living Challenge Daily Goal Sheet
Connect With The Community: Take a few minutes and head over to the forum. Share your "Frugal Living Daily Goal", encourage, and support one another.