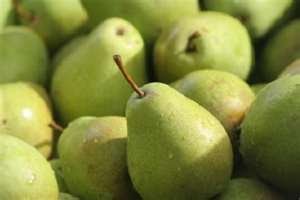 I love fall!
I think I've said that enough over the past couple of weeks…but I can't help it! I love the chill in the air, the leaves, and the peaceful rhythm it brings. I love the smell of fall (you know what I'm talking about). And, I really love the foods of fall: apples, pears, soups, the root veggies, and all the varieties of squash.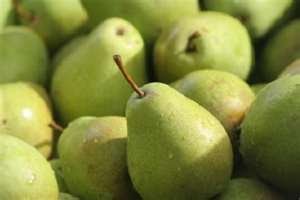 After our spectacular secret apple orchard find, I spent a few days making and canning apple sauce and apple butter. It was glorious! Now I am beginning to prepare myself for the pear harvest. I always seem to have plenty of apple butter put up by this time and now I'm ready for something new.
Pear Chutney.
This pear chutney recipe is another love of mine. The flavor is like nothing I've had before. It's the perfect mix of sweet (honey) and sour (vinegar). I serve it with anything from chicken to beef to fish. It's also very, very beautiful just sitting in the jar!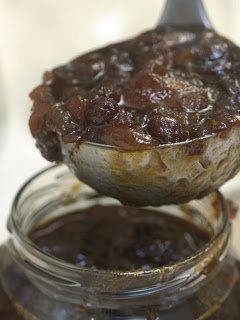 Pear Chutney Recipe
-5 pounds of pears, sliced
-¾ cup green pepper, finely chopped
-1 ½ cup seedless raisins
-2 ½ cups honey (or to taste)
-¾ cup chopped crystallized ginger
-3 cups apple cider vinegar
-½ teaspoon salt
-½ teaspoon allspice berries
-½ teaspoon whole cloves
-4 cinnamon sticks
Directions: Slowly cook pears and next 6 ingredients, and cinnamon sticks, in a saucepan over medium heat. Spices will need to be removed prior to eating. So, I recommend that you tie the allspice and cloves in a small piece of cheesecloth (or you could pick them out after cooking like I do). Cook and stir all ingredients until pears are tender and mixture is thick, approximately 1 ½ hours.
To can: Remove spices and ladle into half-pint jars. Leave ½ inch of headspace and seal by processing for 10 minutes in a boiling water bath or steam canner.
Tips:
-These make really beautiful gifts for the holidays (i.e. fall parties, teacher's gifts, Thanksgiving, Christmas)
-You can purchase crystallized ginger already made in the produce section of the grocery store or make it yourself from fresh ginger.
-Serve atop cream cheese with crackers for a holiday party or office potluck.
-This is a super easy recipe if you are just getting your feet wet with the whole idea of canning. I have given you a link to water bath canning. Don't be afraid! You've got this! And just think of how impressed everyone will be when you gift them one of your homemade jars of Pear Chutney!
Leave a comment (or a recipe) of something you love to make as a gift for the holidays.