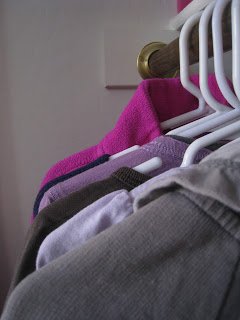 Today was the day! Laundry day! If only you could see my laundry room (Trust me this picture does not do it justice!). Somewhere, in the middle of the huge mount-o-clothes, I thought to myself, "Why on earth do these children have so many jeans and shirts?" And that was it…Momma went minimalist with the kids' closets.
I guess you could call it a breaking point of sorts (smile). It's something I have wanted to do for a while and today I finally pulled the trigger.I mean, it had to stop at some point! It's simply not sustainable to continue collecting clothes. Call me crazy, but I would literally have anxiety just looking into my children's closets. Even when I took the time to neatly fold and organize all the clothes (which wasn't often), it still was overwhelming.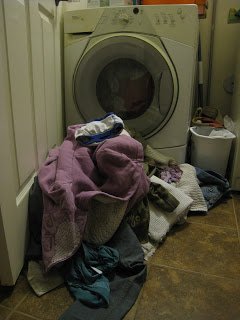 Here are a few ways I anticipate my life with less clothing to look like:
–Instead of constantly clean, folding, and putting away laundry, I'm going to have so much more time.
-Mornings will be way less stressful. With only a few items, it makes the choice of what to wear an easier one.
-Our closets will be easier to maintain, well-organized, and uncluttered. Enough said!
-Laundry days will be easier. Probably more frequent, with smaller loads, but definitely easier.
Why do we own so much?
This whole process today made me stop and think about the psychology behind why we own so many clothes. I think most of us have bought into the lie of society that says "more is better". And because of this, we seek to hoard more and more and more articles of clothing each new season.
We've bought into the big sales gimmick. Somehow they have convinced us that the newest clothes with make us happier, definitely more fashionable and way more popular among our peers. And the saddest thing is…I found myself subconsciously teaching this to my children!
Although not true for everyone, it seems as though many of our clothing choices are strongly tied to our identities. The need to consume things, to stay on top of the latest fashions, or to buy things just because they were cheap says few things positive about our identities, doesn't it?
Let's consider taking a different route with our lives and setting a different example for our children. I'm going to try owning fewer clothes! Will you join me in experiencing this freedom? You may be surprised at how much you enjoy it.
Here are a few practical steps that lead me to this point:
1. I had to admit that we had too much! And boy was that easy (smile).
2. There was a determination that clothing does not define my husband, my children, or myself. Our character defines us, and sometimes clothing actually gets in the way of that!
3. We set, and committed to, a monthly budget for clothing purchases.
4. I decreased shopping trips and stopped purchasing clothes just because they were on sale.
5. Discussions began with the children regarding the importance of focusing on internal beauty rather than the external. And here are the established rules we agreed on! Everyone was able to choose:·
5 pairs of jeans, pants, skirts, or leggings
7 tops (and 2 dresses a piece for the girls)
1 hoodie/sweatshirt
1 coat
1 lightweight rain jacket
2 pairs of pajamas
1 pair of gym/tennis shoes
1 pair of boots
1 pair of shoes of choice
We will wear jeans, pants, and pajamas for 3 days or until visibly soiled. And what about buying something new? That's okay…you just have to be willing to give away, discard, or recycle something you already have; out with the old, in with the new. This way the amount of clothing is always maintained and it will really makes us question how badly we need/want that extra pair of jeans, leggings, dress, skirt, T-shirt, or…
A few things you may want to know about our family:
–We homeschool. I've heard people say, "It's easier for you to do this because your children are homeschooled." Maybe so, but does that mean you can't do it if your children go to public school? Absolutely not! These principles still apply.
–My children and 10, 6, and 2. Yes this is possible, even with small children and even with teens! What a great lesson for them to learn now! Granted infants are a different story, but it's still worth your time to evaluate their stuff too.
–I hang my clothes to dry…indoors. Thanks to the HOA in our current suburban neighborhood we are not allowed a clothes line (Don't ask! I don't know either!). I do have a retractable one in the garage and several collapsible drying racks in the laundry room. We also live in arid Arizona where our clothes literally dry within hours of hanging. We're looking at more frequent, smaller loads of laundry so we'll see how this goes!
–I love hand-me-downs and I do save my eldest daughter's clothes for her younger sister. In fact, to be completely honest, I have packed all the clothes away into a couple tubs in the garage should the need arise and we become desperate for additional items. Something tells me…we won't be missing them (wink).
So what do you think? Can you do it? Do you want to do it? Share your thoughts with us! WARNING: There is a danger here to read what I am doing and assume that you have to do it "just like her." No, please! That is not my intention (smile). This is just a challenge for my family. If you choose to walk down this road, consider your family's own unique needs and shape your path around those. I am by no means an expert on this topic! My sole purpose in sharing this with you is accountability.
Inspirational source that started me on this journey is from Becoming Minimalist.