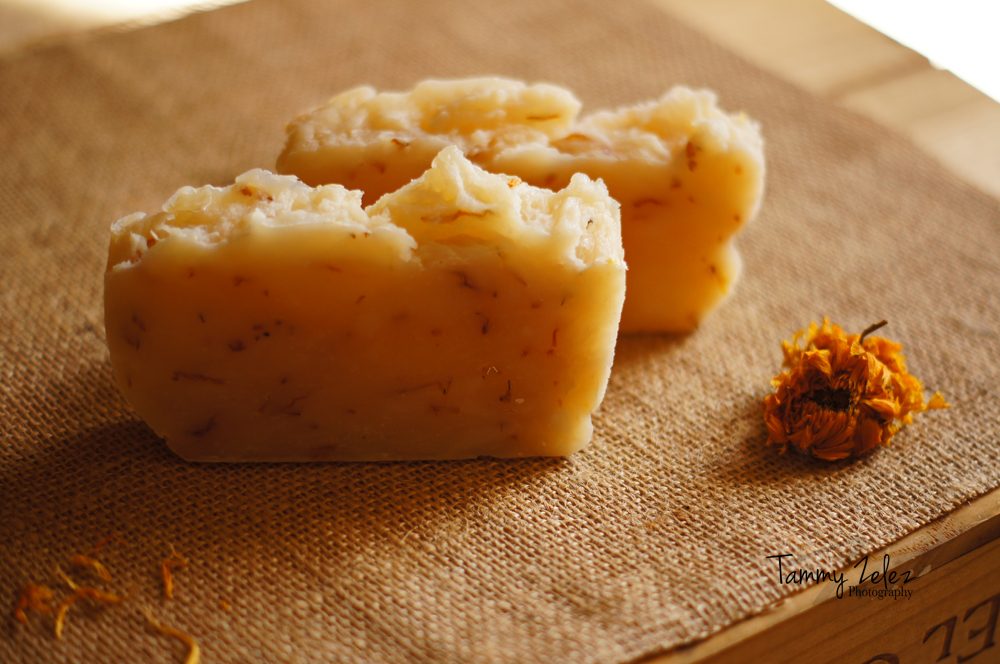 My obsession with soap-making has again led me to create what I think to be one of the best facial cleansers ever!
And this one's perfect for sensitive and maturing skin.
I like to write about soap-making and love sharing my recipes and methods with you…so if you're interested — and ready to read more — check out a few of these recipes:
However, if you are new to soap-making, I strongly suggest you read through these very informative articles:
I would also recommend borrowing a few of these books from the library if you really find yourself wanting to know more:
The Making of a Gentle Facial Cleanser
Now that we have that information out of the way, let's talk about a few of the botanicals and skin-loving ingredients I chose to use in this Gentle Facial Cleanser.
Avocado Butter
Avocado butter is one of the most nourishing oils for the skin! Loaded with essential vitamins (such as vitamin E) and amino acids, it is a collagen stimulant — working hard to fight the signs of aging and rid the skin of free radicals. It is the ultimate in skin softening!
Calendula Flowers
In my opinion, there are few of nature's botanicals as potent as the calendula flower. This resinous flower acts as a protector and healer for the skin! It reduces the effects of environmental elements and heals all sorts of skin ailments. It is the ultimate restorer!
And last — but far from the least — I've added essential oils of sandalwood, helichrysum, and myrrh to give this facial cleanser exceptional anti-inflammatory and anti-aging properties! Perfect in the fight against redness and fine lines. In essence, they provide our skin with everything necessary for tissue rejuvenation.
The Recipe
Ingredients
*Whenever possible, be sure to use fair-trade, organic ingredients.
*Measurements are by weight and should be made using a kitchen scale. 
Base Oils
-12 ounces avocado butter
-8 ounces coconut oil
-8 ounces rice bran oil
-6 ounces sunflower oil
Lye Solution
-4.57 ounces lye (8% excess fat)
-11 fluid ounces pure water
Add-Ins
-Calendula petals
-1 ounce jojoba oil
-2 ounces essential oil blend of myrrh, sandalwood, and helichrysum
Hot Process Method
*Please note…there are 2 different methods for soap-making — hot and cold process — this is the Hot Process Method.
1. Measure both the lye and water – each in separate glass bowls — using a kitchen scale for the lye. Note: Always run your recipe through a lye calculator to be sure that you are using the proper amount of oils, lye, and liquid.
2. Carefully combine the lye and water by pouring the lye into the water (never pour liquid into the lye) and stir liquid until lye is completely dissolved. The liquid is caustic and not to be touched in anyway. The outside of the bowl will be extremely hot as well. Be careful when working with lye and follow all of the recommended precautions. Note: What I'm trying to say is, I can not be held responsible for any craziness, mishaps, explosions, etc. that may happen when making this recipe.
3. Allow the lye mixture to stay under a vent and cool down while you prepare the oils.
4. Measure the oils – by weight – and then place in a crock pot to melt on low heat. Please omit the Jojoba oil…we'll be adding that later.
5. Once melted, add the lye/water mixture to the oils in the crock pot and stir. Note: Any equipment the lye touches needs to be neutralized in a mixture of white vinegar, soap, and water.
6. After a brief stir, grab your stick blender and get to work! Blend the oils and liquid in the crock pot for at least 2-4 minutes. We are working toward "trace."
7. After 2-4 minutes — once the mixture becomes a pudding-like consistency — stir in the calendula petals using a non-wooden spoon.
8. Cover the crock pot and "cook" the soap, on low heat, for approximately 1 hour.
9. Prepare your mold. Note: I just use a standard loaf pan lined with parchment paper and it's always worked perfectly and this recipe is enough to fill one loaf pan.
10. Once the soap is done "cooking" remove from heat and quickly add the jojoba oil and essential oils.
11. Stir until well combined.
12. Spoon soap mixture into molds.
13. Allow soap to cool and harden in the mold for 24 hours.
14. Remove the soap from the mold on to cutting board and cut into bars.
15. Place bars on a tray with good airflow so that they can harden further. But go ahead and feel free use your first bar!
Where Can I Get This Stuff?
Looking for the raw materials mentioned in this post? The Soap Dish has some of the best prices on soap-making ingredients you can find — not to mention it's a small family owned business.
I also highly recommend Mountain Rose Herbs for high-quality, fair-trade, and organic herbs, oils, and essential oils!