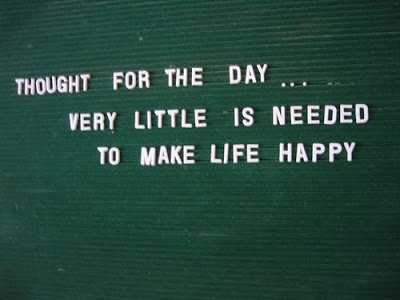 As far as I am concerned, enough has always been about a mind-set.Today, in our society, we live in the land of plenty. We've been conditioned to consume without consideration. "Don't have the money right away, don't worry, just use your credit card." However, buying frivolous things has not only caused debt and added clutter in our home, but it has led to discontentment as we have demonstrated a lack of self-control. It is time for something to give. Even in the midst of a waning economic situation, average Americans…
Spend $0.47 of every food dollar on dining out.
Spend more money than they earn each year. This accounts for 43% of American families.
Owe $4,200 per adult and $8,100 per household.
From all-you-can-eat buffets, to offers for BOGO (buy one get one free), to the newest gadget we are constantly tempted to increase our consumption; wouldn't you agree? Most of us are not able to wrap our minds around what it means to go to bed hungry. Nor have we ever had want for a necessity. Even with full dinner plates, packed-full closets, and garages bloated with floor to ceiling storage bins because all of our possessions won't fit in our oversized houses, we continue to search for more.
Earlier in the week I posted a question on the wall of my facebook page. I asked what people would do differently if they thought they had enough, and here were some of the responses:
-Give more
-Share more
-Move
-Grow more food
-Teach
-Follow my dreams
What if…just what if…we all decided to accept the fact that we already have enough? What if we started resisting the lure of consumerism and instead, we started to become content with what we have?
How could this shift in thinking transform our lives?
A word of encouragement: This transformation will not, and cannot, happen overnight! It is a journey, not a destination. It requires continuous, intentional living. It involves a daily renewing of minds.
Here are a few practical changes we can begin to implement. Try it! Even if only for a few days. You could be surprised as to how much you enjoy enough.
10 Ways to Live In Contentment and Have Enough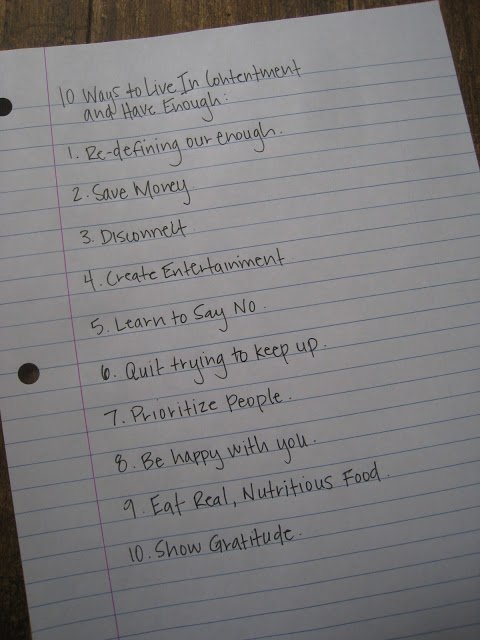 1. Re-defining Our Understanding of Enough
Re-define necessities.
If we have $20 in our pocket, food in the refrigerator, clothes on our back, a roof overhead and a place to sleep, we are richer than 75% of the people in the world.
2. Save Money
Save more than you spend.
Cut up the credit cards, or at least put them away for a while, and stop acquiring debt.
Seek out and follow budgeting principles such as those provided by Dave Ramsey, Crown Financial Ministries, or the Pear Budget.
3. Un-Plug
Choose a day or specific time to disconnect and un-plug.
Be inspired by writers such as those on Unplugged Sunday
Recommended reading: The Winter of Our Disconnect: How Three Totally Wired Teenagers (and a Mother Who Slept with Her iPhone)Pulled the Plug on Their Technology and Lived to Tell the Tale
4. Create Your Own Entertainment
Carry over the un-plugged theme and turn off the TV!
Stop spending money on super expensive entertainment, travel, and/or recreational activities! Get outdoors and enjoy what has been freely given to us in nature.
5. Just Say NO
Having enough often means we will make decisions that are not accepted by the masses. We may have to tell our children no, we may have to tell our friends no, we may even have to tell our extended families no.
6. Quit Trying To Keep Up
Here's the brutal truth, there will always be someone that makes more money that you! And what's more, there will always be someone that has more stuff than you! Gasp! Yes, it's true. But who really cares? Quit trying to keep up. You are a unique, amazingly talented individual all in your own right.
7. Prioritize People
I quit my job 6 months ago. You know why? It wasn't because it made financial sense. It was because I realized that all my children wanted was me. They didn't care about the stuff I was able to buy them. I realized that they are only with me for such a short time and then they are off. Sure, we spend a whole lot less (I mean thousands less) and we have a whole lot less than we did before, but we've never been happier.
8. Be Happy With You
Over the years, as I have matured and grown into my own skin, I am beginning to develop the ability to be content. I no longer need top-of-the-line corporate food, name-brand clothing, or mountains of money to define me. Enough just looks different when I am happy with myself.
9. Eat Real, Nutritious Food
Eat at home.
Begin eating less from a box.
Learn what grows seasonally in your location and eat it.
Grow as much of your own food as possible. Don't let the size of your outdoor space limit you!
10. Show Gratitude
In this the season of thanks, make a list of all the things you are thankful for. Post it in a high traffic area of your home. Embrace it!
In order to begin the journey, we must find ways to bring our family along. Gather everyone together and openly discuss the things on this list. Challenge each other to spend less money this season. Just think of how great it will be when you have gained control over your life! Begin implementing a few changes, but remain sensitive. If it doesn't work that's okay, baby steps.So now I ask you. What would you do differently if you thought you had enough?
"Earth provides enough to satisfy every man's need, but not every man's greed."
-Mahatma Gandhi
Sources:
Accumulating Money