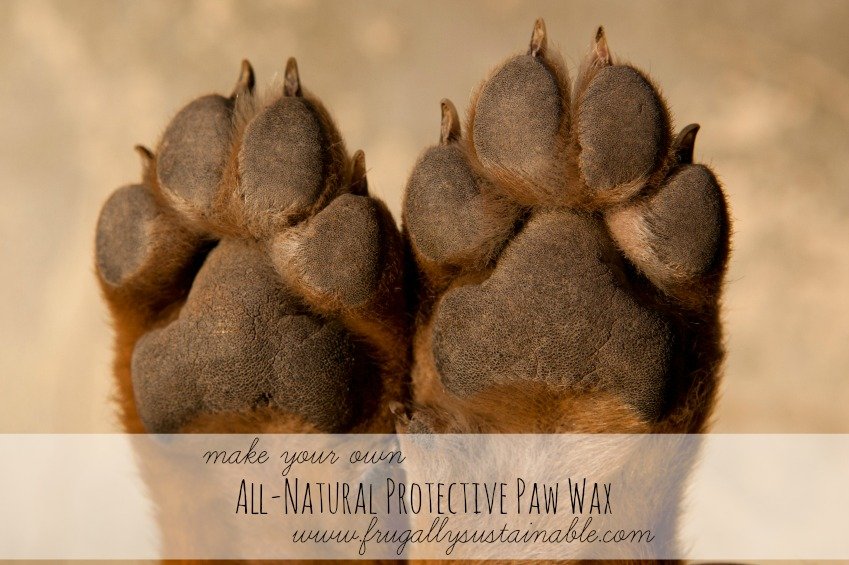 Here at the homestead — in addition to the 3 dairy goats, 21 chickens, 50+ quail, and rabbits — we breed, train, and compete champion bird dogs.
Presently, our kennels are filled with 10 professional hunting companions — all of whom we love and find so much joy in!
And as we've grown in our knowledge of animal husbandry, we have created several herb and natural remedies in order to maintain the health of all of our farmyard friends.
With the necessity to brave the harsh elements of the Desert Southwest, I knew really quickly that I need to create a balm that would protect and heal our puppies paws. You see…they are on a strict weekly training schedule and at times — as they run through the desert — their little pads get irritated.
Paw Wax was my solution.
Dog & Cat Paw Wax
I can't believe it's taken me so long to share this recipe with you!
But, it couldn't have come at a better time…
…because today — probably just as you are reading this post — I am appearing on a local Phoenix television talk show called Sonoran Living Live.
The producers and I decided recipes relevant to this week's theme of "Get Ready for Cold" such as lip balm, Winter Skin Ointment, Pickled Garlic, and this Paw Wax would be fun and super easy to make!
So, I figured it was time to type out this recipe and share it with you all too!
The Recipe
Supplies
-21-24 standard lip balm tubes or 6-1 oz tins
-a small digital kitchen scale, optional
-small pot or double boiler
Ingredients
Method
In a small pot – or double boiler – over low heat melt the oils, shea butter, and beeswax. Stir continuously until all is melted and well blended.
Pour the mixture into lip balm tubes and/or tins.
Let them cool on the counter until hard.
Cap and label.
Keep away from extreme heat.
Use within 1-2 years.
*This recipe will make enough to fill approximately 21-24 standard lip balm tubes or 6-1 oz. tins.
To Use
Harsh weather conditions (extreme heat or cold) can cause your cat or dog to get dry/cracked paws. This paw wax recipe is perfect for the paws and should be applied liberally, as needed for prevention or treatment.
Perfect to apply before your dog or cat:
is exposed to hot pavement (while running/walking with you)
walks on snow and/or ice
goes hiking with you
hunts in rugged terrain
Notes
-For additional protective benefits add 20 drops of vitamin E oil.
-To increase the healing properties of this wax, the coconut and olive/almond oils can be infused with skin-loving herbs such as: calendula, lavender, rose petals, chickweed, comfrey root, and/or marshmallow root.
-Learn more about natural and herbal remedies for animals by adding these books to your home library:
Where Can I Get This Stuff?
–Mountain Rose Herbs…they have everything you'll need for this remedy! It's your one-stop-shop!
–Starwest Botanicals also has a beautiful selection of Bulk Herbs and Natural Products for Healthy, Natural Living!
–The Bulk Herb Store carries many of these ingredients if you'd like to price check.